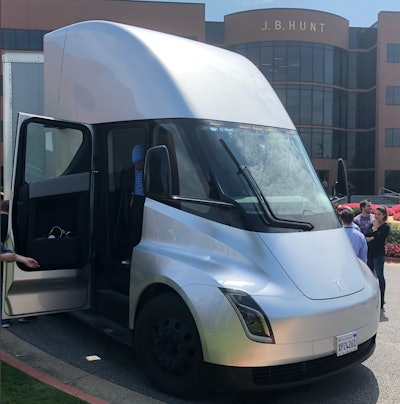 Production on Tesla's long-awaited electric Semi has been delayed for the second time since its November 2017 unveiling.
The company's earnings report, released yesterday afternoon, contained mostly positive news – unless you are a Semi reservation holder. As the carmaker presses forward on its Model 3 and ramps up production on new consumer crossover darling Model Y, Tesla says it is "shifting our first Semi deliveries to 2021," putting production on Tesla's biggest vehicle two years behind schedule.
When the sleek zero-emission tractor was unveiled in Hawthorne, Calif. – the home Tesla Motors' design center and company founder Elon Musk's SpaceX rocket factory – production was penciled in for 2019, and orders began to trickle in from the likes of UPS, FedEx, PepsiCo, Anheuser-Busch, J.B. Hunt and Walmart.
Late last April – almost exactly a year ago – Tesla delayed plans to kickstart production of its Class 8 to this year. Formal updates on the electric carmaker's 300 to 500 mile range electric commercial truck have been scarce as its consumer products steal headlines and production capacity.
Driven by COVID-19 concerns, the current truck order climate is already less than ideal and the appetite for new trucks low. Class 8 truck orders for March sank to just 7,400 units – their lowest point in a decade – as uncertainty over the duration of the COVID-19 crisis limited orders to only those that fill immediate needs.
More than 40% of respondents to a weekly CCJ survey that measures the coronavirus' impact on motor carriers indicate that they have already canceled truck (21%) and/or trailer (20%) orders this year.