Meritor CEO Jay Craig believes his company and many others in the commercial vehicle industry missed the mark when it came to determining just how big of a role powertrain electrification would come to play this past year.
"I was wrong and many others in our industry were wrong with the pace of that change over the last 12 months," Craig said recently during the general session at ACT Expo in Long Beach, Calif. "It's been far more rapid than any of us anticipated and it's been extremely challenging, particularly advances in electronic drivetrains.
"We at Meritor do believe that everything is about to fundamentally change in our industry," Craig added.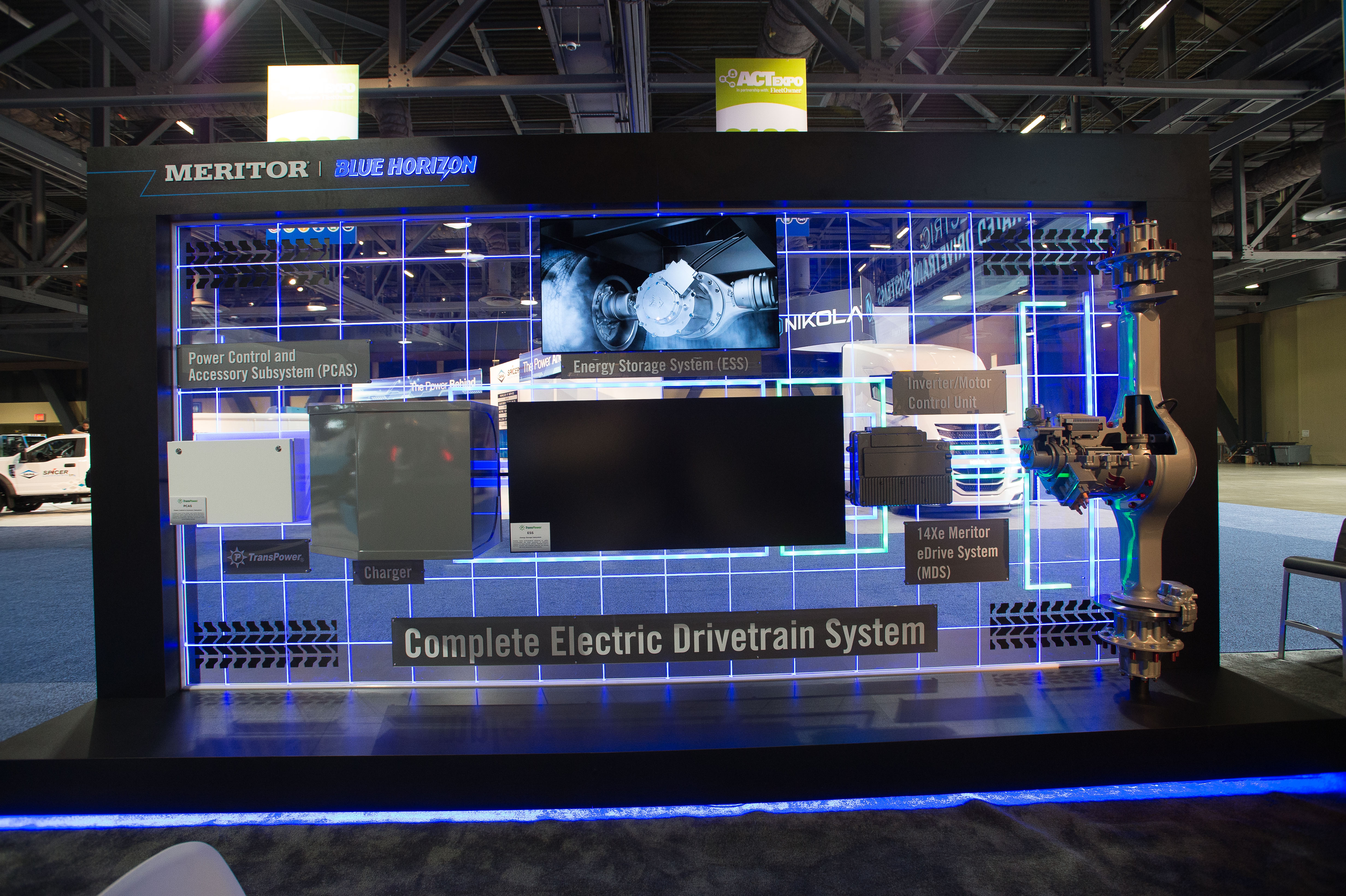 The exhibitor list at ACT posted the names of 171 companies including Meritor which is one of a growing number of manufacturers pursuing vehicle electrification.
"Five years ago, ACT Expo had very few EV-related products," Craig said. "Now it represents a third to almost 50 percent of what you're going to see."
Earlier this year, Meritor announced 22 electrification programs with global OEMs which is expected to put at least 130 fully electric medium- and heavy-duty commercial trucks on the road through 2020. Meritor's display at ACT included a battery-powered Kalmar port terminal truck which it built with TransPower for the Ports of Long Beach and Oakland.
The trucks are being funded by a $17.1 million grant from the California Air Resources Board's Zero and Near Zero Emission Freight Facility (ZANZEFF) program. It's one of the largest grants ever awarded for port tractors which will be used 16 hours a day in areas categorized as non-attainment air pollution zones in the U.S. Environmental Protection Agency's Green Book.
Increasing pollution regulations driving alt fuel sales
There are currently 37 states and 300 counties posted on the EPA's non-attainment county list. California easily ranks tops for not only having the greatest number of polluted counties, 40, but also for having the worst air quality in the nation. Counties are labeled as either marginal, moderate, serious or extreme offenders.
The Meritor-TransPower tractors will be operating in the non-attainment counties of Los Angeles and Alameda. Air pollution is considered extreme in Los Angeles county and moderate in Alameda.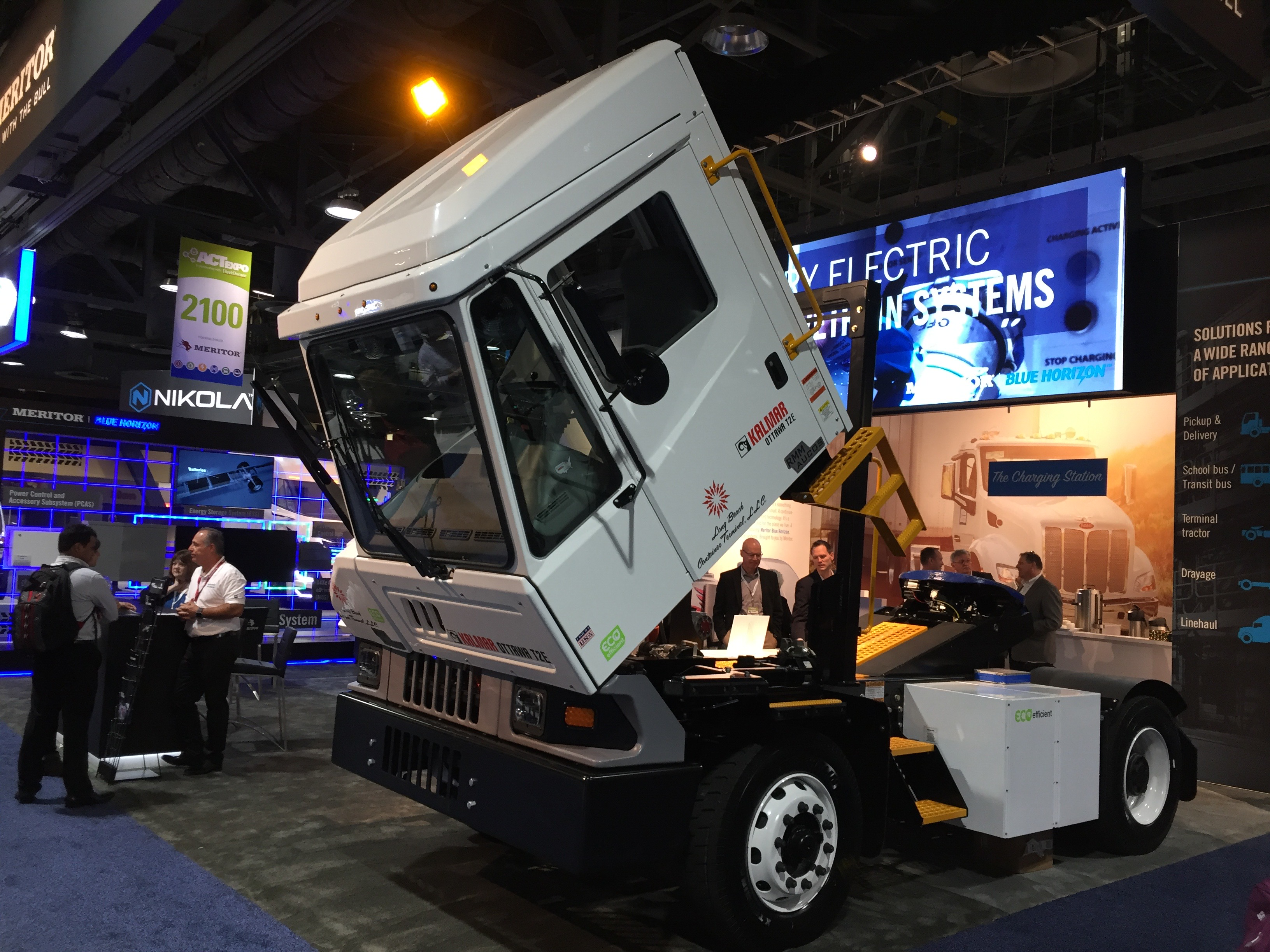 Emissions reductions have remained a top priority for California which has been active in pursuing legislation that calls for using near or zero emissions vehicles in non-attainment areas. During his recent tenure, former California Governor Jerry Brown was so concerned about emissions that he suggested implementing a statewide ban on internal combustion engines.
In going beyond simply offering fleets alt fuel incentives CARB announced in December a first-of-its-kind regulation in the U.S. that sets a statewide goal for public transit agencies to gradually transition to 100 percent zero-emission bus fleets by 2040.
Buses aren't the only vehicles coming under fire in the Golden State. At Los Angeles International Airport, fleets operating medium and heavy-duty vehicles have until April 30 to comply with the Alternative Fuel Vehicle Requirement Program.
"Engine year cannot be greater than model years of the current reporting year and vehicles must be alternative fuel (non-petroleum derived), electric, or gasoline and diesel vehicles that are an optional low NOx vehicle or CARB Low Emission Vehicle (LEV III)," reads the program update for Los Angeles World Airports Alt Fuel Vehicle Requirement Program.
Fleet funding is available from LAX's Alternative Fuel Vehicle Incentive Program. Vehicles driven there less than five times a month are exempt from compliance.
In keeping with program requirements, Hacor, a longtime in-flight airline catering services provider at LAX, announced with Roush CleanTech at ACT that they were acquiring Roush's ultra-low NOx trucks powered by a propane autogas fuel system.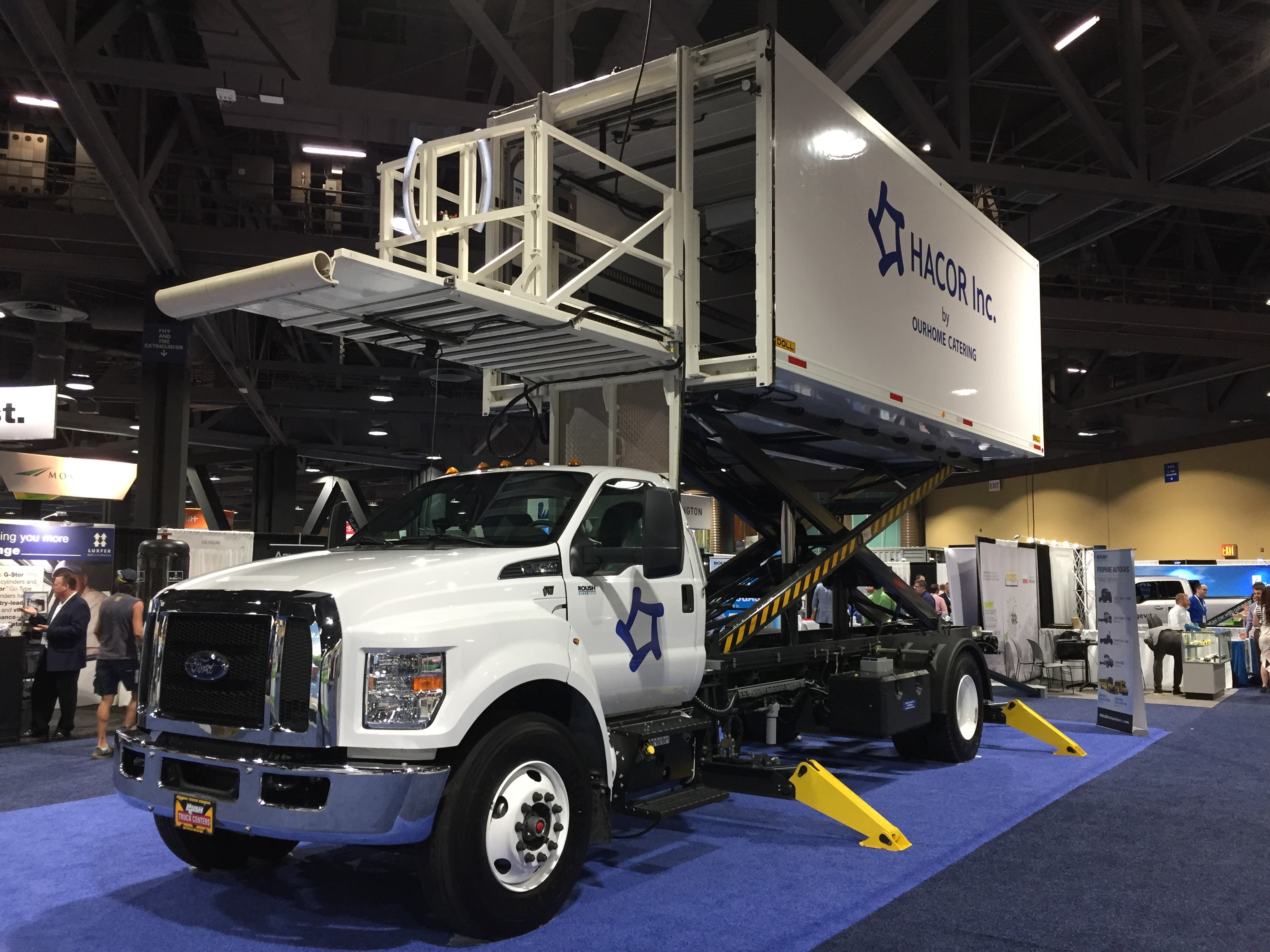 Craig said pollution concerns in non-attainment zones will continue to steer fleets towards alt fuel vehicles. He said in China 18 of 30 major cities have green zones, some of which restrict the use of ICE vehicles from 7 a.m. to 8 p.m. daily.
Craig said increased green zones driven by emissions concerns are not just limited to nations abroad. A global map he displayed showed new new clean air standards for San Francisco; New York; Austin, Texas; and emission free zones in Pasadena.
"This is another big, big driver of the change that's coming to the industry," he said. "People talk about this being mainly a Chinese issue or an issue in India. No, it's an issue that's across the globe."
Earlier this year, the Diesel Brothers were found guilty in a federal court of tampering with diesel emissions devices on several pickups in Utah in Davis County which made EPA's list for moderate and serious non-attainment emissions levels.
So much riding on batteries
Besides pollution concerns, Craig said another driver towards vehicle electrification are lower battery costs which currently average around $250 per kilowatt hour.
"I think it's still the consensus thought that by 2025 there is a flight path to get to $150 per kilowatt hour fully packed. It's not without challenges," Craig said. "At that price, certain applications become economic: school buses, refuse trucks, transit buses, drayage vehicles. Those become economic against ICE driven vehicles."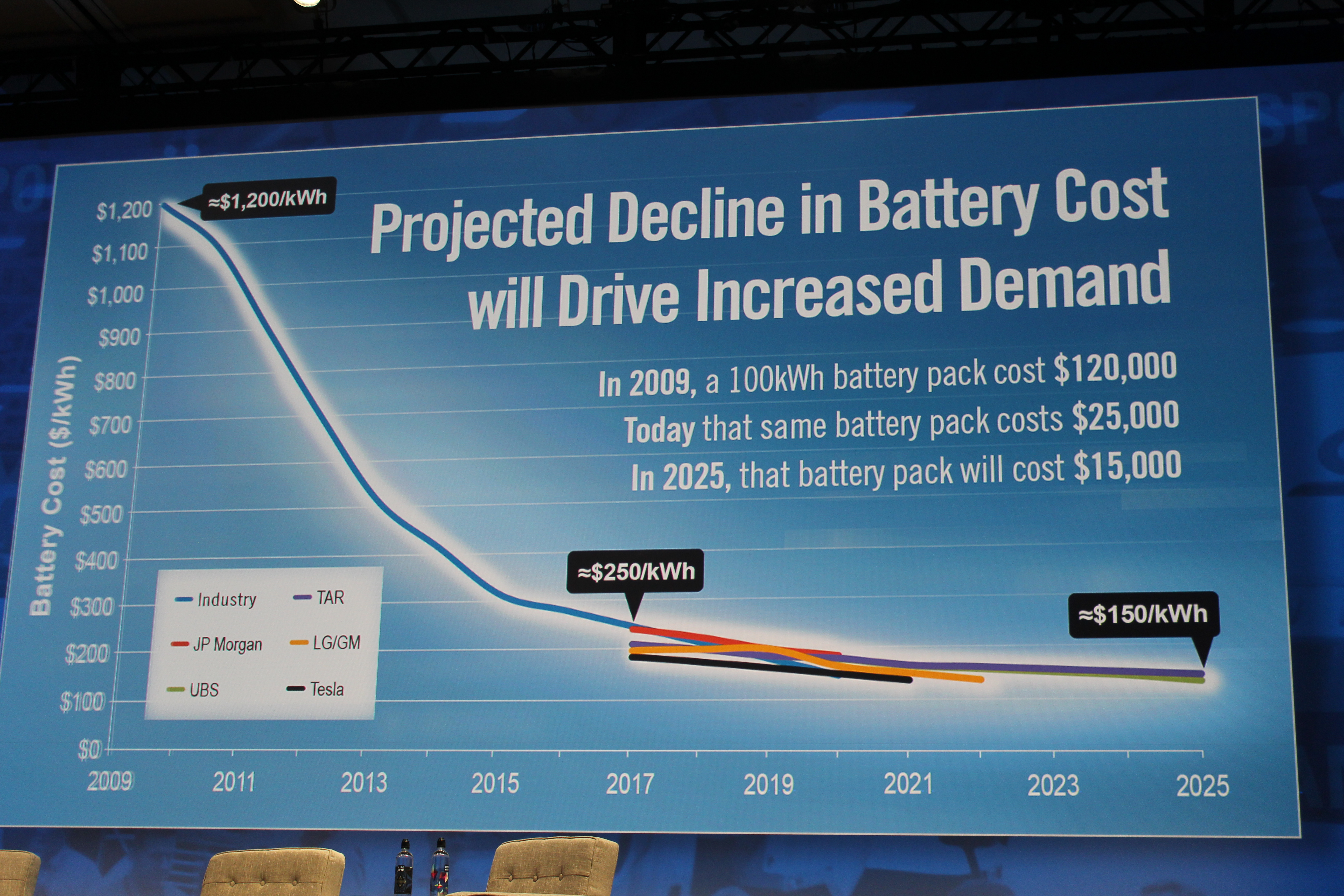 Craig said certain analysts are projecting that battery costs could get as low as $100 per kilowatt hour by 2025.
"I know many of us would say that it presents a very, very significant challenge, but I think very few of you would say it's outright impossible. I don't think we know all of the changes that can come to battery technology to move that. And at that price almost any application becomes economic. It really falls back to the restriction of what the power grid can handle, the infrastructure, to make that transition."
However, not everyone accepts the notion of falling battery prices. Nikola founder and CEO Trevor Milton, who spoke at ACT shortly after Craig, rejected the premise. Milton referred to rising lithium prices brought on by increased EV production in the U.S. and abroad, particularly in China, the largest consumer of lithium in the world. Nikola is developing both hydrogen fuel cell and battery-powered Class 8 trucks.
"I just want people to speak the truth. You can't solve problems when you don't talk about it. Material costs have gone up. Battery costs have gone up 25 to 30 percent the last 12 to 18 months. They're not coming down. The more people that jump in, the more expensive it gets," he said.
This week, Tesla warned of a global shortage of metals used in EV battery production. According to Reuters, the California-based EV manufacturer—which also produces batteries in neighboring Nevada—believes that mining investments have not kept pace with growing demands of metals used in the nascent zero-emission industry such as lithium, copper and nickel.
Cobalt, another key metal used in battery production, has come under fire given its controversial origins in Africa where children have been used to mine the highly sought-after metal. As a result, Tesla reported that it will be transitioning from cobalt to nickel. But the switch can't come fast enough for Milton.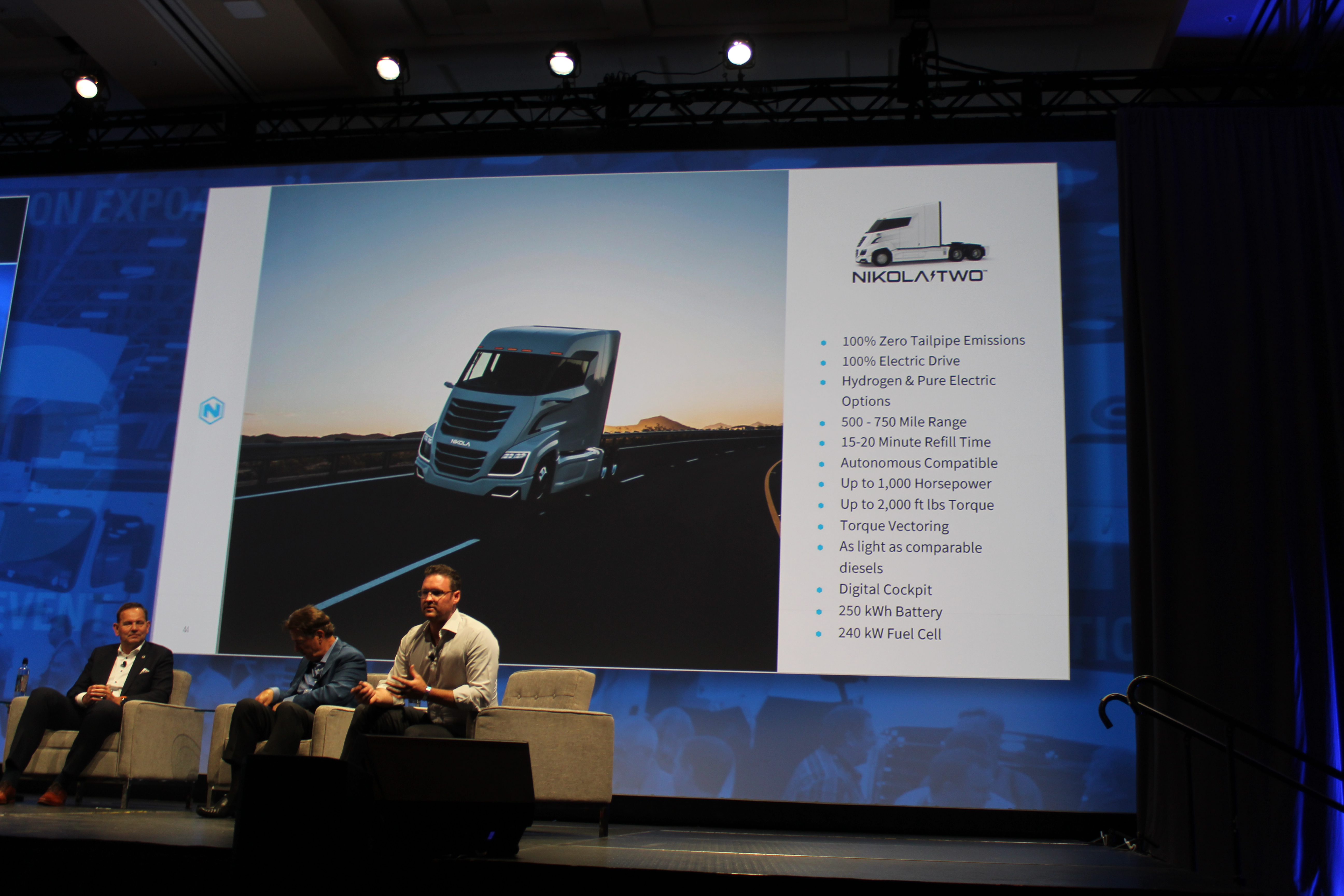 "Right now they're digging up mines with child labor to pull these batteries out? I'm tired of it," he said. "People are not telling the truth about it and it drives me nuts because I don't want to support child labor. The only thing you can use indefinitely forever is water and hydrogen. It's the only resource that will not go away."
Tesla CEO Elon Musk, who will fall short of reaching his goal of producing a Class 8 electric semi in 2019, has denounced fuel-cell technology as 'stupid' and that 'success is simply not possible.'
Milton, who recently unveiled his Nikola II prototype in Arizona and later displayed it at ACT, said his fuel cell tractors will have a range of 750 miles. He added that hydrogen produced through solar power will undercut the price of diesel. Milton sees fleets using his fuel cell and all-electric trucks—the former for long haul, given its longer range, and the later with an expected range of 300 to 400 miles, for regional and metro applications.
"There are a lot of advantages to both," Milton said. "They're the exact same platform. Remember that. There's nothing different. They're both driven by electric motors. They both have power electronics, inverters, everything else. The only difference is how you charge it. Do you pull it from the grid? Or do you store it in hydrogen?"