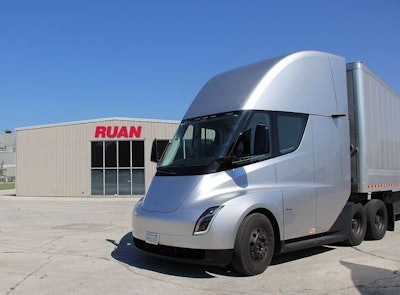 When Tesla debuted its electric Semi tractor in late 2017, the company set a production target of 2019.
After posting first quarter financial losses of more than $700 million Wednesday, the company says it now plans to kickstart production of its Class 8 in 2020.
"Next year we will start production," says Tesla Automotive President Jerome Guillen. "We are very happy with driving the trucks extensively with, I think, so far quite amazing success."
The company has used its Semi to deliver some of its Model 3 sedans and Tesla CEO Elon Musk says "the prototypes are working amazingly well."
"Yes, very well," Guillen adds. "We load them to maximum weight and continue to make improvements."
The company hasn't confirmed order figures for the Semi in nearly a year. Last May Musk pegged the figure at "about 2,000" units. UPS, FedEx, PepsiCo, Anheuser-Busch, J.B. Hunt and Walmart are among the carriers with Semis on reserve.
Where the Semi will be built has not yet been determined but Guillen noted "it's pretty clear that we make all the batteries and [the company is] driving it in [Sparks, Nev.]." Sparks is home to Tesla's Gigafactory.
Tesla General Counsel Jonathan Chang also noted Wednesday the company plans to finalize its acquisition of San Diego-based ultracapacitor and battery company Maxwell next month.