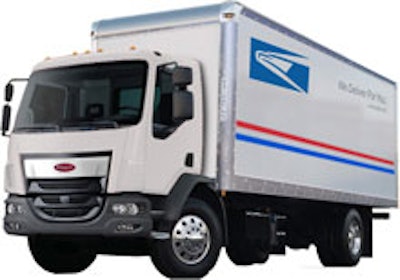 The 2018 Peterbilt 520 has been pulled from the fleet of the United States Postal Service over concerns for driver safety.
A USPS driver told Hard Working Trucks that all 83 cabover box trucks were sidelined because of a defect that was deemed to be a fire hazard.
Hard Working Trucks asked USPS about the truck including the risk for fire.
"The safety of our employees is a top priority of the Postal Service. We are aware of the issue and we are working with the supplier to address it," a spokesperson said.
While there have been no recalls for the truck, the National Highway Traffic Safety Administration currently has six OEM communications posted for the 2018 Peterbilt 520 that include back over prevention, electrical system, equipment, forward collision avoidance and structure.
In addition to the fire hazard, the driver cited issues with steering, vibration and braking.
Spartan Motors, which supplied the cargo bodies for the USPS spec'd Peterbilt 520, issued the following statement:
Spartan Motors is not aware of any quality control issues associated with our Utilimaster vehicles that have resulted in an active pull back at this time. We can confirm that a field repair bulletin was issued yesterday by a supplier of ours that may impact some Utilimaster vehicles, but it is premature to draw definitive conclusions this time. We are actively evaluating the situation now and we are committed to a proactive response, if appropriate, once our assessment is complete.
Spartan Motors' commitment to manufacturing excellence includes processes and procedures, of which the NHTSA considers best practices, and all our facilities act in accordance with the same.
The USPS driver said there have been no problems with the Utilimaster body. Peterbilt has not yet responded for comment.