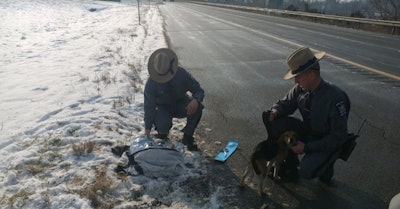 He didn't have to take the risk and get involved, but he did.
A trucker who witnessed two dogs being thrown out of a vehicle last week in New York on Interstate 81 immediately stopped on the highway and rescued the injured hounds.
New York State Police said after seeing a tractor-trailer stopped in the left lane of the highway in the Whitney Point area on Wednesday morning, they looked a further down from the truck and saw the driver out on the interstate carrying one of the dogs while the other followed closely behind.
"Troopers immediately rendered assistance to the injured dog," New York State Police state in a press release. "A New York State Police K9 handler bandaged the injured dog to stop bleeding and splinted its leg while other troopers kept the dog warm in a warming blanket and in the truck driver's sweatshirt. The smaller dog was fed dog biscuits and ate half a box."
The dogs have been recovering at the Broome County Humane Society (see post below).
The trucker, whom police did not identify, said he saw the dogs being thrown out of the passenger window of a dirty, early model Dodge Durango that had rust along the hatch near the bumper.
No arrests have been made. Investigators are hoping that someone else will come forward with additional information such as a dashcam video or license plate number.
The vehicle was traveling south on I-81 between the Marathon and Whitney Point exit in Cortland County at approximately 9:30 a.m. Anyone with information is asked to call contact New York State Police Troop C in Homer at 607-749-1614.