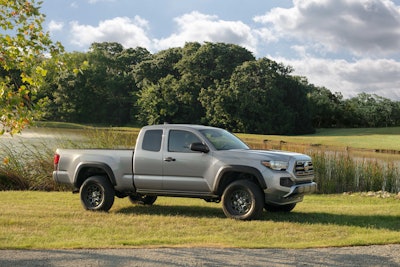 Toyota is recalling roughly 44,000 2018-2019 Tacomas over a brake fluid leak which could lead to a crash.
Due to improper manufacturing processes by a part supplier, a seal in certain brake master cylinders may become damaged over time and leak brake fluid internally.
The brake pedal may not feel the same, and front brake performance could be suddenly reduced. This could result in increased vehicle stopping distance and may increase the risk of a crash.
For all involved vehicles, Toyota dealers will replace the brake master cylinder with a new brake master cylinder that is not affected by this condition at no cost to customers. Owners of all involved vehicles will receive direct notification by first-class mail starting in late-January 2019.
Information about automotive recalls, including but not limited to the list of involved vehicles, is subject to change over time. For the most up-to-date Safety Recall information on Toyota, Lexus or Scion vehicles, customers should check their vehicle's status by visiting toyota.com/recall and entering their Vehicle Identification Number (VIN) or license plate information. Safety Recall inquiry by individual VIN is also available at the NHTSA site: nhtsa.gov/recalls.