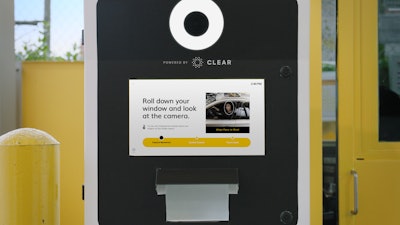 Biometrics is merging into the fast lane with Hertz' announcement this week of its facial recognition technology checkout system which allows you to rent a vehicle using your face at the world's busiest airport, Hartsfield–Jackson Atlanta International Airport (ATL).
Hertz Fast Lane powered by CLEAR is designed to get drivers onto the road in 30 seconds or less, a 75 percent reduction in the typical time it takes to hit the road in one of their rentals.
Throughout 2019 Fast Lane will be rolling out to more than 40 additional Hertz locations, including some of the busiest U.S. airports such as Los Angeles International Airport (LAX), John F. Kennedy International Airport (JFK) and San Francisco International Airport (SFO), among others.
"We're excited to introduce Hertz Fast Lane Powered by CLEAR to get Hertz customers through the exit gate without the wait and on the road faster," said Hertz CEO Kathryn V. Marinello. "By teaming with CLEAR, Hertz gets a partner with an expanding footprint and proven track record to help us innovate the car rental process, improve the customer experience and bring meaningful benefits to busy travelers."
Marinello added, "This new innovation demonstrates our focus on enhancing the entire customer experience. In the last two years, we've upgraded our fleet with the cars people want to drive, launched our Ultimate Choice model in the U.S. enabling customers to choose their preferred vehicle with no wait, and improved site operations to deliver great service consistently."
Hertz Gold Plus Rewards loyalty members who sign up for CLEAR and link their accounts will be able to verify their identity and rental reservation with just a look or tap of their finger. Hertz Fast Lane powered by CLEAR marks the first use of biometrics by a major rental car company, and the first time CLEAR's trusted identity platform is enabling members to verify their identity using their face instead of showing a physical ID.
Biometrics has already emerged into vehicles around the world. Affectiva Automotive AI was the first to introduce in-cabin sensing AI that identifies, in real time from face and voice, complex and nuanced emotional and cognitive states of a vehicle's occupants. This provides OEMs and Tier 1 suppliers comprehensive people analytics, enabling them to build advanced driver monitoring systems, as well as differentiated in-cabin experiences. The system can be used to help detect behavior typically associated with drowsy driving, for instance. According to Affectiva, data is not released to the cloud.