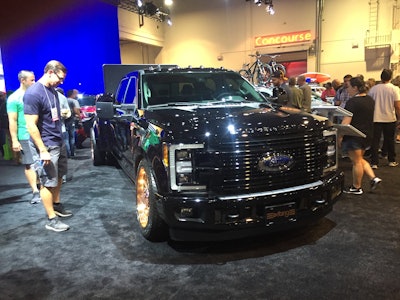 The Ultimate Tailgate Truck at Ford's SEMA display was impressive. Knowing that students were behind that build makes it even more memorable.
Students from Washtenaw Community College's Custom Cars & Concepts program in Ann Arbor, Mich. dove into some challenging body work by shaving off the door handles and applying mirror perfect black paint to a 2019 Ford F-350 Lariat DRW Crew Cab 4×2.
Designed by Extang engineers, the Ulimate Tailgate Truck brings on the party with a tailgate-mounted grill in back and a 65-inch OLED LG 4K TV.
A 6.7-liter PowerStroke turbo diesel V8 paired up with a TorqShift heavy-duty 6-speed keeps the show on the road.
The truck features a custom dropped air suspension powered by AirLift Performance 3P air management system which includes four-corner pressure control, SMC fittings and lines, VIAIR air compressors and AirLift Dominator 2600 air springs.
Fuel Off-Road DRW Maverick 24-inch custom copper plated wheels with black painted accents and custom babymoon lug covers are wrapped by Delente DX10 Bandit A/T (285/40/24) tires.
On game day the fun gets even better thanks to a custom fabricated low-profile cargo slide with integrated expanding game table.
Music gets loud and proud thanks to a B&O premium audio system which includes custom installed Maxxsonics MB Quart 8-inch speakers. The only thing missing? Culinary students whipping out medium-rare steaks. Maybe next year 😉