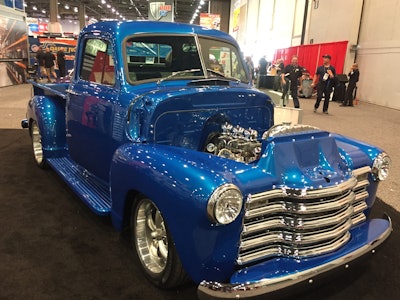 Seems everyone wants an LS motor. Even the first insurance adjuster that inspected our tree-crushed house following the hurricane told me about the LS1 he dropped into his Ford Ranger. (Haven't heard from him since and the check his company presented was laughable.)
True, GM's LS series, which was first introduced in the '97 Corvette, has earned plenty of street cred (there's even a forum dedicated to the engine called ls1.com.) But it's also nice to see some old school tech at work, especially in older rides.
That's the case for a 1953 Chevy pickup that I spotted at SEMA last month while looking for another truck. The pickup's immaculate chrome grille against that Voodoo Blue paint made me stop dead in my tracks and start taking pictures.
Another thing that stood out was the title of the sign in the back of the bed: "Home built 1953 Chevy Pickup Hot Rod 'Old School' – No LS Motor."
Fair enough. At a time when retro builds get a lot of the spot light—and most I've seen are super impressive—it's nice to turn back the clock and see older iron still flexing some muscle.
Bill George of Hudson, Ohio, the truck's builder, paired up a Chevy 283 with a Trans Saginaw 4-speed manual which powers a 4.11 Posi rear-end donated from a Camaro. Hudson had some fun and substituted the truck's gas pedal with a Ludwig bass drum pedal. I'm pretty it'll move out those Wheel Monster 20-inch rears and 18 inchers in the front.
Thanks, Bill, for bringing your ride and showing off some old school pride. More build details below.
Paint Tips by Shorty
Glass by Pilkington Classic Glass; installed by Safelite Auto Glass
Detail work by Ultra Glass Ohio
Interior by bestwayupholstery.com
Paint by PPG/Paint supplier API Ohio (GM Voodoo Blue)
Insulation by Multi-Seal Inc.
Gauges by Dakota Digital
Steering column by I-Didit
Bed wood by Bill Mattocks
Wiring by American Autowire