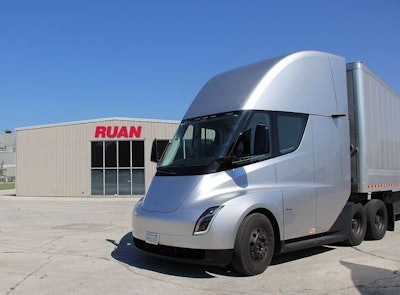 Prototypes of Tesla's all-electric Semi are beginning to make stops across the U.S., including layovers at some of the company's key would-be customers.
Lowell, Ark.-based J.B. Hunt played host recently to the tractor, which Tesla CEO Elon Musk says "was driven across the country alone (no escort or any accompanying vehicles), using the existing Tesla Supercharger network and an extension cord."
That extension cord, according to some who were at J.B. Hunt headquarters when the truck was being showcased, can be connected to multiple standard Tesla superchargers individually at the same time.
Lowell, Ark., is nearly 1,800 miles from Tesla's Nevada Gigafactory, which serves as the Semi's home base.
Tesla is set to offer two models of its Semi: one featuring a 300 mile range and one with a range of up to 600 miles.
J.B. Hunt is among a group of early Semi reservation holders that includes FedEx, UPS, PepsiCo, Anheuser Busch, Walmart, Ruan Transportation Management and others that have reserved the all-electric rigs. Late last year, UPS placed an order for 125 Tesla Semis, while PepsiCo reserved 100 and Anheuser Busch reserved 40.
Evan Fusco, who caught up with the truck at the Arkansas carrier's facility, says via Twitter the tractor "was not pulling a trailer during the trip," although one was attached in many pictures floating around social media.
The truck was spotted in the Chicago-area last week at a UPS terminal – about 600 miles from Lowell, Ark. Twitter user Jeffrey Lutz said when the truck arrived in the Windy City it had no trailer.
"No trailer but they attached one and towed it at the UPS office nearby. Charging looked super normal, clean, standard. I was very impressed," Lutz wrote.
Ruan also hosted the electrified tractor last week in Des Moines, Iowa.
"We are excited to have an opportunity to experience the new electric semis. The reservation of these vehicles is part of Ruan's sustainability efforts and commitment to providing our customers and professional drivers with the best technology available," says James Cade, vice president of fleet services. "We will continue to be involved with the team at Tesla Motors as they introduce the trucks to the market. We will work with them directly to ensure the vehicles will serve us and our customers to the level we both expect."
Tesla has said it would begin production of its Semi sometime next year.