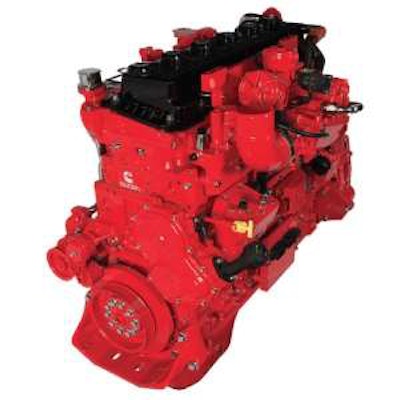 The Cummins Westport ISX12N earned high marks from the University of California, Riverside following a new study on ultra-low emission natural gas heavy-duty engines.
UCR's College of Engineering Center for Environmental Research and Technology (CE-CERT) and Southern California Gas Co. (SoCalGas) today announced that the ISX12 N near-zero engine achieved California's lowest smog-forming emissions standard and maintained those emissions during all types of driving.
"The study results underscore the ability of the near-zero truck engines to clean the air. Most heavy-duty vehicles on roads today are predominantly diesel-powered and represent one of the largest sources of nitrogen oxide (NOx), or smog-forming, emissions and fuel consumption in North America," the joint press release states. "By contrast, the new near-zero emissions 12-liter engine, made by Cummins Westport, is the only heavy-duty engine in the category to not only meet, but exceed, the California Air Resources Board's cleanest optional low-NOx standard of 0.02 g/bhp-hr."
Kent Johnson, assistant research engineer at CE-CERT, led the tests on the near-zero emissions natural gas engine. The evaluation included regulated and non-regulated emissions, ultrafine particles, global warming potential, and fuel economy. The testing was performed during in-use testing on a dynamometer that simulated various types of driving conditions, from pulling into a loading dock to regional hauling.
Johnson performed similar testing on an 8.9-liter near-zero natural gas engine last year. Those results found the smaller engine had even lower emissions than California standards will require in the near future—in some driving conditions, almost zero.
"The first study was a smaller engine intended for use in school buses and trash trucks, which are only about 30 percent of the heavy-duty inventory. The new engine is for drayage and movement of goods, or 70 percent of the inventory. This engine technology is good not only for the smaller work-force applications of transit and refuse, but also for hauling loads around Southern California," Johnson said.
SoCalGas, the primary provider of natural gas in Southern California, applauded UCR's study.
"The transportation sector accounts for more than 80 percent of smog-forming emissions in California," said Sharon Tomkins, vice president of customer solutions and strategy for SoCalGas. "The test results from UC Riverside once again shows the latest natural gas engine technology, which is available and on the road today, will play a vital role in achieving California's clean air goals."
The State of California, which has been criticized by natural gas proponents for raising lab certification costs and for favoring non-internal combustion technology like electric powertrains and hydrogen fuel cells, offered praise for near-zero engines.
"The Energy Commission is pleased to support, along with South Coast Air Quality Management District and SoCalGas, the initial testing of this cleaner low NOx Cummins engine and glad to see it has been certified by the California Air Resources Board," said California Energy Commission Commissioner Janea A. Scott. "This type of near-zero pollution engine adds to the growing number of clean energy technologies being developed to reduce pollution in efforts to meet California's clean air standards and is particularly important in Southern California where air quality continues to be a challenge and freight movement represents a third of the region's economy."
Scott's comments come amid Governor Jerry Brown's push to phase out internal combustion engines in favor of electric and fuel cell vehicles. However, the state through the California Air Resources Board awarded an internal combustion fuel–AMP America's renewable natural gas–with the lowest carbon index score on record: -255 compared to electric's score of +35. RNG's exceptionally low score comes from the fact that it's produced from waste-based methane that otherwise would vent into the atmosphere. CARB considers methane to be a far more potent greenhouse gas (GHG) than other emissions like carbon dioxide.
According to UCR, about 41 percent of the state's GHG emissions come from transportation. When near-zero emission natural gas trucks are fueled by renewable natural gas, GHG emissions can be reduced by at least 80 percent, the university reports. Already, close to 70 percent of natural gas fleets in California are fueled with renewable natural gas and is expected to continue to climb this year.
"Large scale and accelerated deployment of near zero-emissions engine technology is vital for achieving the necessary emission reductions to achieve federal air quality standards in 2023 and 2031," said Wayne Nastri, executive officer of the South Coast Air Quality Management District. "To meet our air quality goals, we must continue to see improvements in the transportation sector, which contributes the most air pollution in our region."
Though renewable gas proponents are quick to cheer their fuel's CARB-approved CI score of -255, which is roughly seven times better than electric, Johnson would not endorse the fuel as being better for the environment over electric powertrain technology.
"This requires a longer discussion and should include all elements of the comparison. Not something I can answer in this short response. Good question though," Johnson wrote in an email to Hard Working Trucks.
Images below from UCR study