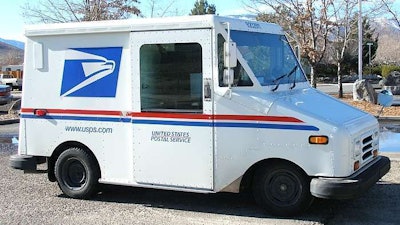 Record heat in Southern California may be to blame in the death of a U.S. postal worker who was found dead in her mail truck Friday in a Los Angeles neighborhood.
A record temperature of 117 degrees had been recorded Friday in Woodland Hills where 63-year-old Peggy Frank was found unresponsive while sitting inside her postal truck.
Autopsy results have not been released. Frank, who had worked for the Woodland Hills Post Office for the past 28 years, had a history of health problems.
A longtime employee at the Woodland Hills Post Office who knew Frank said that the temperature inside a mail carrier's vehicle, which is not air conditioned, can be 10 to 15 degrees hotter than the temperature outside.
"They make us lock them and seal them for safety of the mail, but it's horrible in there," Joni Hogan Salvatore told the Los Angeles Daily News.
The USPS extended their "thoughts and prayers" to Frank's family and said that carriers are asked regularly to stay hydrated, dress appropriately for hot weather and seek shade when possible.
"Safety is our top priority for all of our employees," said Evelina Ramirez, a USPS spokesperson. "The Postal Service strives to ensure that they have the tools and training to do so safely."