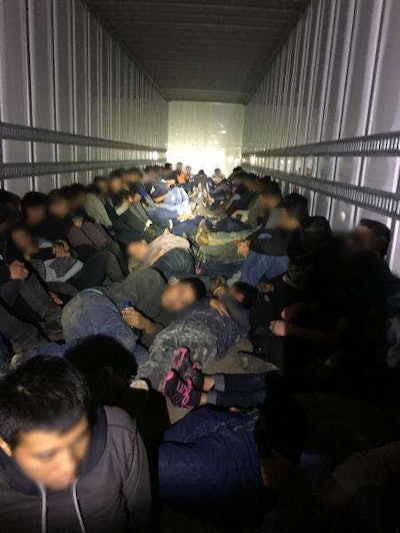 U.S. Customs and Border Protection announced the arrests of nine U.S. citizens for smuggling 64 illegal aliens in five separate incidents over this past weekend.
"In addition to securing and protecting our nation's borders, frontline Border Patrol agents are committed to reducing heat-related injuries and preventing deaths along our borders," said U.S. Border Patrol Acting Chief Carla L. Provost. "These rescues are a result of stepped-up enforcement at our immigration checkpoints coupled with our search and rescue efforts that are key to preventing unnecessary loss of life."
In the last two months, Border Patrol agents have stopped 42 smuggling attempts involving tractor trailers, rescuing 406 people from possible death due to soaring temperatures along the Southwest border.
On June 30, agents arrested an adult female for attempting to smuggle 10 people through a Border Patrol immigration checkpoint. The individuals were discovered in the sleeper cab of the truck after a Border Patrol K-9 alerted to the presence of narcotics and people in the tractor trailer.
That same day, two adult females driving a box truck were arrested for smuggling seven illegal aliens through the same checkpoint. The individuals were concealed and locked inside of the truck. Three hours later, agents arrested two men attempting to smuggle 21 people concealed inside a box truck. After a K-9 alerted, agents conducted a search of the cargo area and discovered people hiding behind stacks of tires.
On July 1, agents arrested two individuals attempting to smuggle 14 people through a Border Patrol immigration checkpoint. The individuals were discovered concealed in the sleeper compartment of the truck. Later that day, agents arrested two people for smuggling 12 people who were locked in the trailer compartment of an 18-wheeler. All of the smugglers were turned over to U.S. Immigration and Customs Enforcement for prosecution.
U.S. Customs and Border Protection's Border Patrol has stepped up its search and rescue efforts in an attempt to prevent heat-related deaths along the Arizona border. This week, temperatures in Arizona are expected to exceed 115 degrees.