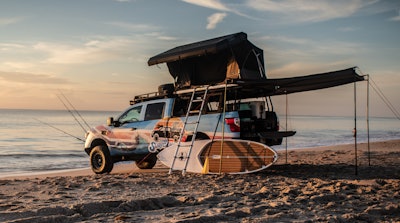 This week in Orlando, Fla. Nissan is introducing its Titan Surfcamp concept truck, an interesting amalgam of the traditional surf truck and beach camper.
From its off-road tires to the rooftop tent, the Titan Surfcamp is an all-inclusive beach cruiser featuring surfboards, paddleboards, fishing rods, a solar-powered shower and more. It is the latest in the Titan Adventure series of lifestyle-themed project builds from Nissan. (More photos and build sheet posted below.)
"In the summer, beach parking lots are full of trucks hauling surfboards, fishing rods, boats and campers as people crave the sun and sand," said Fred DePerez, vice president, Nissan North America LCV Business Unit. "Inspired by the vintage beach trucks of the 1960s, Titan Surfcamp is a celebration of the beach truck tradition with all the modern technologies Titan customers want when they head out to surf, shore fish and camp-out by the water."
Titan Surfcamp also features a surfboard and stand-up paddleboard rack. Fishing rods can be stored along the roof rack while en route to the beach and once lines are cast, integrated rod holders in the bumper are there to help.
To wash off the salt and sand, a Road Shower rack mounted solar shower and teak wood deck is incorporated. A Rhino-Rack Batwing awning provides much needed shade and a Yeti 125-quart cooler will keep your catch and favorite beverage cold. As the sun sets, lighting from KC, Rigid and Baja Designs illuminate the path ahead, and when the stars come out, a hard-sided roof-mount Freespirit Recreation Elite Series Automatic Tent offers the perfect spot to rest.
"With Titan Surfcamp, it's never been easier to hit the beach," says DePerez. "I hope this amazing show truck inspires surfers, fisherman and beach lovers to add Titan to their weekend adventures."
The Titan Surfcamp project vehicle is the latest in the Titan Adventure series of lifestyle-themed project builds from Nissan.
After appearing at ICAST in Orlando this week, Titan Surfcamp heads west to the Pacific Ocean and the Supergirl Surf Pro in Oceanside, Calif., July 27-29.
2018 Nissan TITAN Surfcamp Build Sheet
Exterior
Vehicle Wrap
IF Signs; inspired by Hot Wheels 1971 Datsun Bluebird Wagon nicknamed "JNC Surf Patrol"
Wheels
ICON Alloy Alpha Wheels
Tires
Nitto Ridge Grapplers 35/12.50/17
Front Bumper
Fab Four Vengeance Series
Lift Kit
ICON Stage 5, 3-inch lift
Auxiliary Lighting

KC Hilites Pro 6 Lights
Rigid Industries E-Series LED Light Bar
Baja Designs XL9s

Gear Storage
Bed Rack
Leitner Designs Cargo Rack
Roof Rack
Rhino-Rack Cab Roof Rack
Storage Drawers
Decked bed drawer system
Recovery
Jack
Hi-Lift
Shovel
Rhino-Rack
Interior
Seat Covers
Wetskinz neoprene
Floor Mats
WeatherTech
Fishing Gear
Fishing Rod Holders
Custom surf rod mounts
Surf Gear
Paddle Board
DragonFly
Surf Boards
Chris Birch custom surf boards
Protection from the Elements
Tent
Freespirit Recreation Elite Series Automatic
Awning
Rhino-Rack Batwing Awning
Convenience
Coolers
Yeti 125 Hard Cooler
Shower
Road Shower 4 Solar