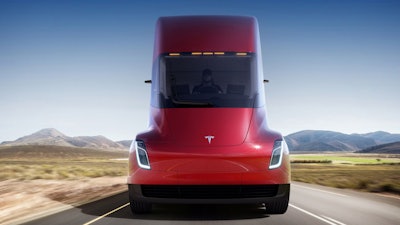 City Furniture, one of the nation's top-selling furniture brands, became the first furniture retailer in the U.S. to announce the pre-order of five all-electric Tesla Semi trucks.
The news comes as Tesla faces another government investigation following another fatality involving its controversial Autopilot system. On Tuesday, Tesla's Autopilot chief Jim Keller resigned following the March 23 death of Apple engineer Walter Huang who had a fatal crash while using Autopilot on his Tesla Model X.
Despite troubling headlines stemming from its Autopilot, lackluster production of its highly-touted Model 3 and a recent shut-down of its assembly line in California, the embattled company led by irreverent CEO Elon Musk continues to attract investors and buyers, including City Furniture.
"We expect all-electric trucks to change the playing field in the years ahead," said City Furniture Chief Operating Officer Andrew Koenig. "Based on the ROI we've already seen by converting most of our delivery fleet to alternative fuel vehicles, we anticipate the Tesla Semis will bring major savings in energy costs and maintenance, while taking performance and reliability to a level that hasn't yet existed."
Ranked on Furniture Today magazine's list of Top 100 U.S. Furniture Companies, City Furniture is underway with a $100 million expansion in South and Central Florida, to include a distribution center and showroom just west of Orlando in Ocoee, plus stores in Altamonte Springs and in Orlando's Mall at Millennia area.
With production slated to begin in 2019, the Tesla Semi's specs call for 0-60 mph acceleration in five seconds, compared to 15 seconds in a comparable diesel truck. With full 80,000-pound load, 0-60 mph is projected at 20 seconds.
The Tesla Semi does not require shifting, an attractive selling point for City Furniture, along with the reported range of 500 miles.
The furniture company expects to use the Tesla Semis to transport merchandise from City Furniture's main distribution center in Tamarac to the planned Central Florida distribution facility.
Since 2014, City Furniture has converted 80 percent of its approximately 100 smaller delivery vehicles to bi-fuel trucks that run primarily on compressed natural gas (CNG). Traveling nearly 5 million miles yearly on deliveries throughout its 29-store Southeast, Southwest and Central Florida showroom network, the company has reduced its emissions by about 47 percent by converting to CNG fuel.