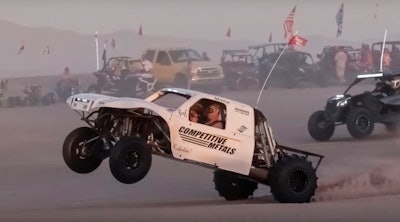 It's called the Tesla Sand Truck and it recently blew away the competition during a drag race in Glamis, Calif.
Check out the first video below to see what we mean. Look for the white truck on the bottom of the screen.
Tesla Sand Truck owner Don Swadley built his own frame and thanks to some help from his friends at Stealth EV in Oceanside, Calif., he paired it up with a used electric motor from a wrecked 2015 Model S.
Before too long, Swadley was racing off-road among friends and destroying nearly all of the competition…nearly all. A V10 equipped rail car suspected of being boosted with nitrous narrowly beat him, but most have just watched Swadley fly way out in front.
Swadley posts videos and pictures of his truck on Instagram where he takes the time to answer questions, and he's been getting a lot of them.
The truck weighs in at only 2,600 pounds. Total battery storage is only around 22kW, which is fine for Swadley who gets roughly 30 miles out of his ride playing around in the sand.
Swadley started with Tesla's 1150 amp motor and then stepped up to a 1400 amp Ludicrous motor. Wheelie anyone?
Recharging takes about two hours with two Honda generators (Glamis doesn't exactly offer D.C. fast chargers or really any outlets, for that matter).
Stealth EV owner Matt Hauber explained that the roadworthy batteries are the same ones used in popular EVs like the Nissan Leaf and Chevy Volt.
Keep an eye out for both Swadley and Hauber on Instagram. Hauber's staying busy at Stealth EV converting classic cars and vans. Check out his electric WS6 Trans Am, hybrid Hummer H2, VW busses and other rides. You can also see the Tesla truck smoking its tires on asphalt in Stealth EV's video posted below.