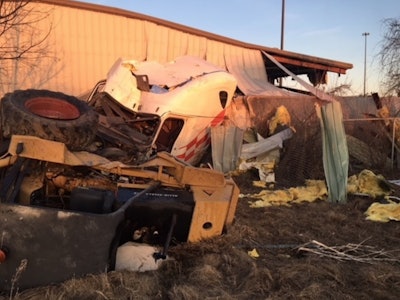 Indiana State Police say that a trucker is lucky to have had no serious injuries today after smashing his rig into a pickup, driving through a fence, a ditch, a building and then colliding with a forklift.
Kazmierez Kisiel, age 66 of Westfield, Mass., was driving his 2016 Freightliner eastbound on the Indiana Toll Road near the 90-mile marker early this morning when for an unknown reason it veered off the road.
The truck hit an abandoned red 1997 Chevy truck that was sitting on an entry ramp to a closed service plaza, continued off the road and into a ditch, drove through a fence and into an Altech Engineering building where it smacked into a forklift and finally came to a stop (see photo above).
No one inside the building was hurt and Kisiel, despite having to be extricated from his heavily damaged rig by the Elkhart Fire Department, was treated at a nearby hospital for only minor injuries.
So far alcohol has been ruled out as a factor for the crash, according to a press release from Indiana State Police.