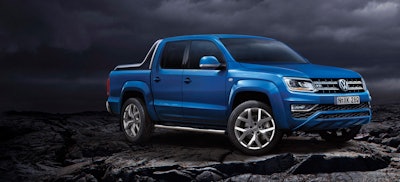 It looks like Volkswagen is edging closer to bringing a pickup to the U.S.
That news broke today as the automaker prepares to reveal a midsize concept truck based on the Atlas crossover at the New York auto show this week.
An unnamed source with VW told Automotive News that the company may be selling a pickup in the U.S. and that VW CEO Herbert Diess "has supported it (a VW pickup) from a very early phase in the project." If approved, the truck could be built at VW's manufacturing plant in Chattanooga, Tennessee.
Another clue that VW may be marketing a truck in the U.S.? It registered the name of its midsize truck sold outside of the U.S., the Amarok, with the U.S. Patent Office in January. (The Amarok is pictured above and can be seen in a video below.)
VW has been struggling with profitability following the diesel emissions scandal which required the company last year to pay $17.05 billion in fines.
Though pickups command a larger profit margin and the segment has continued to grow in the U.S., the mid-size truck market is packed with tough competitors like GM, Ford, Toyota and Nissan.
However, VW is no stranger to pickup manufacturing. Its midsize Amarok, introduced in 2010, is seemingly sold in every major pickup market except the U.S. and Canada. Truck buyers in Australia, Mexico, Mongolia, New Zealand, South Africa, and throughout Europe and South America can opt for either a 2.0 or 3.0-liter diesel or a 2.0-liter gas variant. Transmission options include a six-speed manual or 8-speed automatic.
If it chooses to build a pickup in the U.S., VW would avoid the costly chicken tax in the U.S. which is reserved for imported light trucks and other items.