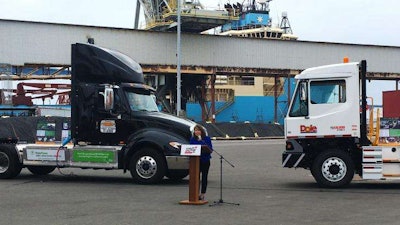 Fleets striving to put more electric trucks to work in San Diego are getting a big leg-up thanks to a partnership between area businesses that's largely been fueled by California's big push for more zero emission vehicles in its ongoing fight against pollution.
More charging stations are coming to the area following a partnership between San Diego Gas & Electric (SDG&E), San Diego Port District, port tenants such as Dole (the largest world's largest producer and marketer of fruits and vegetables), the San Diego International Airport and its tenants, and TransPower, an Escondido-based company that has supplied electric trucks to port tenants.
SDG&E announced that it recently received approval from the California Public Utilities Commission (CPUC) for six projects to further expand the EV charging network. These projects will add charging stations at the Port of San Diego, San Diego International Airport, delivery fleet hubs and shuttle hubs to support electric vehicles, including semi-trucks, forklifts, and other medium/heavy-duty equipment. Charging stations will also be built at four Park & Ride lots. These projects build upon SDG&E's Power Your Drive program, which is ramping up to add 3,500 charging stations at multi-family communities and workplaces.
Under a proposal submitted to CPUC this week, SDG&E is seeking approval to build charging infrastructure to enable about 3,000 medium/heavy-duty vehicles to go electric. Forty percent of the installations will be targeted for vehicles and equipment that are based in or travel through disadvantaged communities.
"We are aggressively moving forward to help achieve the Governor's bold vision to have 1.5 million zero emission vehicles on our roads by 2025 to reduce pollution and stimulate the economy," said SDG&E Chief Operating Officer Caroline Winn. "The San Diego region's share toward meeting that goal is 150,000 zero emission vehicles. Every car, every truck, every forklift that we can help electrify will move us closer to fulfilling that ambitious clean transportation goal that benefits us all."
Rafael Castellanos, chairman of the Port of San Diego, credited SDG&E for its role in the collaboration.
"The Port of San Diego's partnership with SDG&E is bearing fruit with the upcoming deployment of more electric freight vehicles that will support our efforts to reduce our environmental impact and be a good neighbor to Barrio Logan," said Rafael Castellanos, Chairman of the Port of San Diego. "Coupled with our modernization project at the Tenth Avenue Marine Terminal, which will make it cleaner and more efficient, this is another smart investment for the future of our waterfront."
SDG&E's projects were developed under Senate Bill (SB) 350, which recognized the vital role energy companies like SDG&E play in widespread transportation electrification by installing and expanding the charging network to help customers green their fleets.
According to SDG&E, transportation electrification is not just a tool for mitigating climate change, it's also the natural progression of renewables, given that electric cars and trucks plugging into the power grid will be charging on ever increasing amounts of energy generated by the sun and wind. The San Diego region has an abundance of solar energy during the day, and transportation electrification can help maximize the use of the excess solar energy.
Today, 43 percent of the energy SDG&E delivers to its customers comes from renewable sources, with no contracts for coal.
Below are summaries of the approved projects:
Port Electrification: Install 30-40 pieces of equipment to support electric semi-trucks and other medium/heavy-duty equipment at the Port of San Diego;
Airport Electrification: Install up to 45 charging ports to support about 90 new pieces of electric ground support equipment at San Diego International Airport;
Fleet Delivery Trucks: Install charging stations for about 90 fleet delivery vehicles at multiple locations;
Electrify Local Highways: Install charging stations at four Caltrans Park-and-Ride lots located along highways;
Green Shuttles: Install charging stations at five locations frequented by shuttles;
Dealership Program: Offer educational materials, training and incentives for dealerships involved in selling EVs.