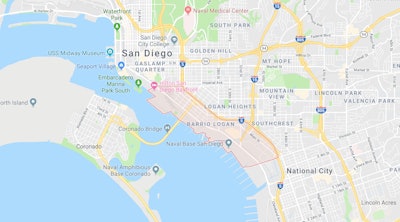 The San Diego City Council voted unanimously this week to ban heavy-duty trucks from additional streets in a neighborhood where environmentalists have regularly campaigned against commercial truck traffic which they contend is a large source of air and noise pollution.
Barrio Logan, which runs along the west side of Interstate 5 and includes Naval Base San Diego, will be seeing fewer trucks that weigh five tons or more following Tuesday's 9-0 passage of a resolution proposed by the Environmental Health Coalition (EHC). A new route will require trucks to avoid passing by residents' homes, schools and senior centers located along certain streets.
"We know that enforcement of the new resolution will be key to ensuring that heavy duty trucks steer clear of the restricted streets where people live, learn and play," says Jerry Rivero, director of EHC's Toxic Free Neighborhoods campaign.
EHC, which takes on environmental issues throughout the state, says San Diego's latest truck policy will advance clean air and safe streets in Barrio Logan by directing heavy-duty trucks to use Harbor Drive as the designated route for passing through Barrio Logan and accessing I-5. The resolution increases the number of streets in Barrio Logan that prohibit heavy-duty vehicles.
"In my time in office, we have been working on prohibiting trucks from entering the Barrio Logan neighborhood and I am very pleased that this truck route will finally be approved by the City Council," said David Alvarez, San Diego city councilmember for District 8, which includes Barrio Logan.
"Barrio Logan is a thriving and growing community in the heart of San Diego and this truck route will improve the residents' quality of life, lessen noise, traffic and pollution."
According to its press release, EHC "is an organization fighting for social and environmental justice in the region's low-income communities of color for more than 38 years."
Hard Working Trucks interview request to EHC was not fulfilled by deadline.