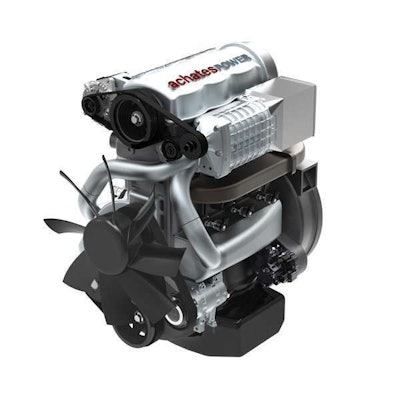 In the case of the Achates Power two-stroke diesel engine, less is more.
For the last 14 years, the San Diego-based company has been busy working to improve the opposed-piston engine with one of its variants being a two-stroke diesel, a lesser-known oil burner dating back over 100 years to its inventor Rudolf Diesel and more typically found today in marine applications.
Achates' opposed-piston engines have no cylinder heads and no valve trains. Fewer parts translates to fewer maintenance headaches and less heat loss which results in greater fuel efficiency versus a four-stroke diesel. (In a video below, Achates founder and inventor Dr. James Lemke talks about the record-setting two-stroke diesel built by Hugo Yunkers that helped inspire him to start Achates—along with some nudging from his late friend and Walmart heir, John Walton.)
Proprietary cylinder and piston designs on the Achates' two stroke "achieve unprecedented improvements in combustion efficiency and oil consumption to meet the most stringent emissions regulation," Achates notes on its website.
Achates' work caught the attention of Cummins and led to a partnership on a $47.4 million contract with the U.S. Army to develop and demonstrate an advanced engine for the next generation of combat vehicles.
The Advanced Combat Engine (ACE) project, led by Cummins Corporate Research and Technology and supported by Achates Power, aligns well with the research and development work of the U.S. Army Tank Automotive Research, Development and Engineering Center (TARDEC).
"The goal of the project is to significantly improve the performance, survivability, and range of ground combat vehicles while reducing fleet fuel use," a press release from Cummins states. "Cummins and Achates Power plan to reach these goals by reducing heat rejection by 21 percent versus current Cummins-supplied combat vehicle engines, as well as improving power density by more than 50 percent, and reducing fuel use by 13 percent, versus current typical combat vehicle engines."
David Johnson, president and CEO of Achates Power, welcomed the opportunity to work on the project.
"This award builds upon 14 years of extensive development by Achates Power to modernize and optimize the opposed-piston engine," Johnson said. "We are pleased to support Cummins on the Multi-Cylinder Advanced Combat Engine Technology Demonstrator program with our strengths in opposed-piston engine technology to deliver a superior engine for combat and tactical vehicles for the U.S. Army."
While it may be a while before we see a two-stroke diesel offered commercially in a pickup, it's good to know that Cummins, Achates and the U.S. Army are working hard to give new life to an old workhorse which may one day earn a more prominent place in the herd.