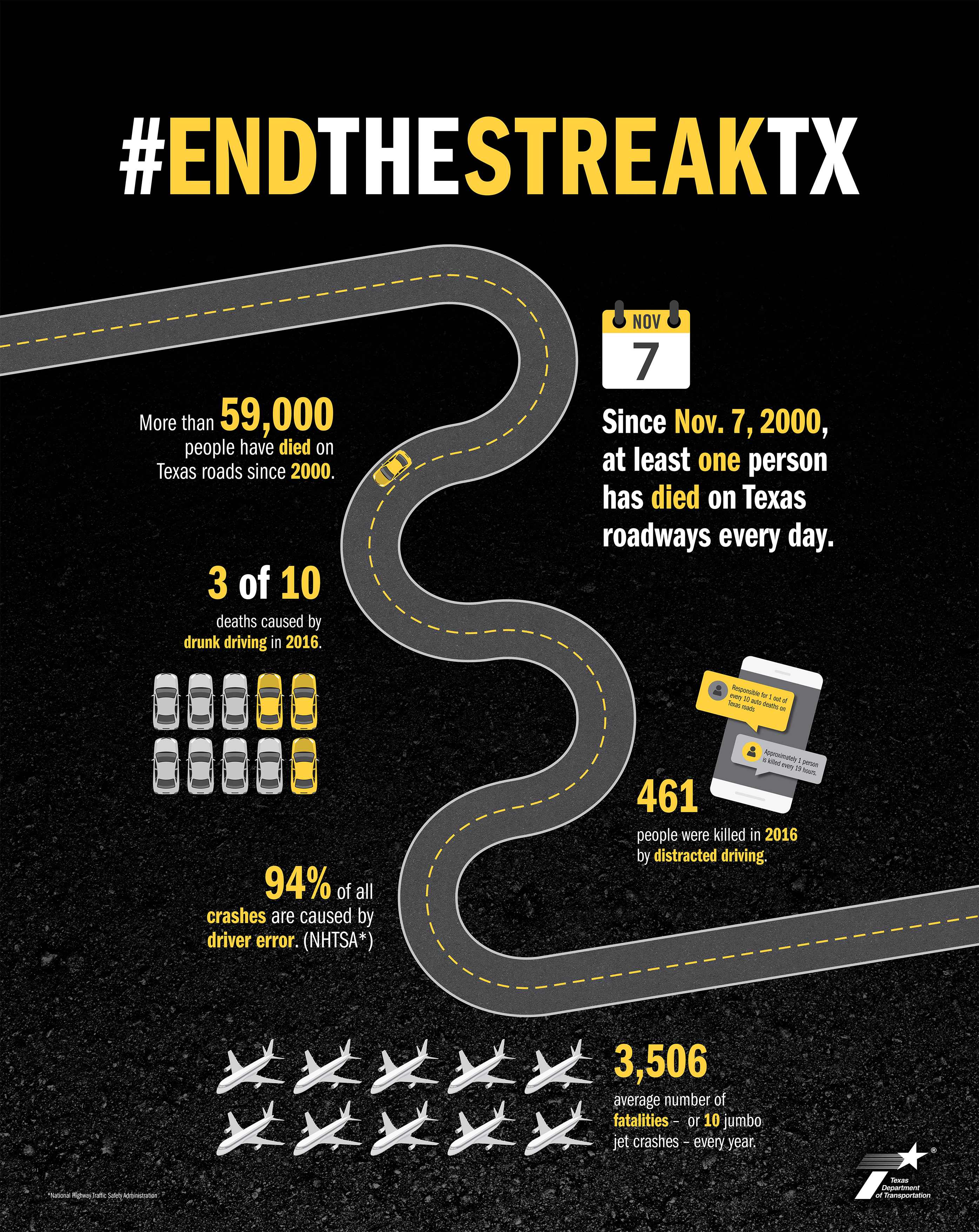 On November 7, the Texas Department of Transportation marked a milestone it hopes won't be repeated.
In the past 17 years, 59,000 people have died in crashes on the state's roads.
TxDOT hopes its new social media campaign, #EndTheStreakTX, will spread the word and make drivers more aware of the dangers of unsafe driving practices. The agency will use social media to send out information throughout November about the fatalities. The public is also asked to share the information as well as post their own personal stories of loved ones lost in crashes with photos and video testimonials. Those posting to social media for the campaign and those wanting to follow it can do so at #EndTheStreakTX.
TxDOT says the main causes of road deaths is failure to stay in one lane, alcohol and speed. The agency offers the following tips:
All passengers need to be buckled.
Put phones away and avoid distractions.
Never drink and drive – get a sober ride home.
Obey speed limits and drive slower when weather conditions warrant.
"It's heartbreaking to know somebody has lost a spouse, child, friend or neighbor every day for the past 17 years on Texas roadways," said TxDOT Executive Director James Bass. "According to the National Highway Traffic Safety Administration, 94 percent of these deadly crashes are due to driver error – things like distracted driving, speeding and drunk driving. We can stop this deadly streak if every driver makes it a priority to be safe, focused and responsible. Let's end the streak."
Note: This article originally appeared in Equipment World, a partner publication of Hard Working Trucks.