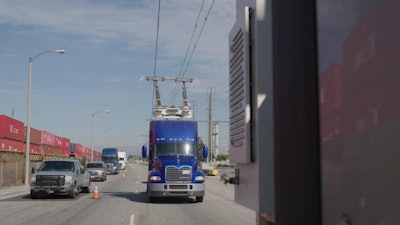 The nation's first catenary system for Class 8 trucks went to work recently in Southern California reducing emissions and fuel consumption with every inch of overhead electrified wire used to power three freight haulers.
Siemens and the South Coast Air Quality Management District (SCAQMD) teamed up to conduct the one-mile, zero-emission eHighway demonstration in Carson, Calif., near the ports of Los Angeles and Long Beach.
An all-electric truck plus another with a natural-gas hybrid-electric powertrain—both built by TransPower in Escondido, Calif.—are being joined by a diesel hybrid supplied by Mack Trucks.
"The system is expected to lower fossil fuel consumption, reduce truck operating costs, substantially reduce smog-forming, toxic and CO2 emissions, and help accommodate the growing reliance on freight transportation," Siemens reports in its press release. "The aim of this specific project is to demonstrate the eHighway system applied in truck operation on public roads in an urban U.S. setting and to further prepare applications for larger scale initiatives in the future."
An automated system will lift an active pantograph located on top of the eHighway trucks which transfers energy from the mile-long overhead lines to the truck's electric motors, allowing the truck to operate with zero emissions while on the catenary system. According to Siemens, one tractor-trailer running on the system for 100,000 miles would save $20,000 in fuel costs.
"This project will help us evaluate the feasibility of a zero-emission cargo movement system using overhead catenary wires," said Wayne Nastri, SCAQMD's executive officer. "This demonstration could lead to the deployment of eHighway systems that will reduce pollution and benefit public health for residents living near the ports."
The $13.5 million project is funded by $2.5 million from SCAQMD, as well as $4 million from a settlement with China Shipping, $3 million from the California Energy Commission, $2 million from the Port of Long Beach and $2 million from LA Metro. In addition, Siemens provided a $1.3 million in-kind contribution. SCAQMD is providing an additional $2.1 million and the US EPA is providing $500K for the TransPower contract.
In June 2016, Siemens launched the world's first eHighway system on public roads in Sweden. The eHighway is running on a two-kilometer section of the E16 highway north of Stockholm through 2018. Two bio-diesel-hybrid vehicles from truck-maker Scania, subsidiary of Volkswagen, are being used for the project. In addition, three field trials of the eHighway technology on German highways are planned to start operation in 2019.