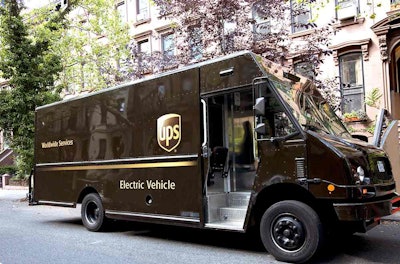 UPS and the New York State Energy Research and Development Authority (NYSERDA) today announced that new, energy-saving technology will be developed to convert UPS package delivery vehicles from diesel to electric.
UPS and Unique Electric Solutions LLC (UES LLC) will design, build, test and make the conversions. The project supports Governor Andrew M. Cuomo's aggressive goal to reduce greenhouse gas emissions 40 percent by 2030 by replacing diesel vehicles with clean technology.
"Public-private partnerships help push innovation forward and transform industries," said Carlton Rose, president of global fleet maintenance and engineering at UPS. "This program will help UPS develop and deploy electric delivery trucks faster and more affordably. Because they are cleaner and quieter, electric vehicles are ideal for dense urban environments like New York City and are a critical part of our strategy for the future."
NYSERDA is providing $500,000 in funding to develop and test the conversion system. If successful, the Bronx-based project is expected to bring a production version of the converted truck to the streets of New York City by Spring 2018.
In addition to producing a new, cost-effective all-electric conversion kit, the project will deliver a blueprint for converting up to three UPS vehicles a day. This could lead to the conversion of up to 1,500 UPS delivery trucks, which is about 66 percent of UPS's NYC fleet, operating in New York City by 2022.
Alicia Barton, president and CEO of NYSERDA said, "This project is a prime example of the State's investment in new and innovative technology that can help us meet Governor Cuomo's nation-leading clean energy goals. I applaud UPS and Unique Electric Solutions for their leadership in developing this system that can help reduce greenhouse gas emissions and has tremendous potential to be used by the entire delivery industry."
The conversions will be based on unique electric vehicle technology developed by Unique Electric Solutions. The core system features a 225kW Switched Reluctance Motor (SRM) with a high voltage backbone optimized for the duty cycle of UPS delivery trucks.
UPS reports that SRMs are simpler, cheaper and better suited for electric vehicles over conventional induction motors and do not rely on the use of magnets made from imported rare earth metals like permanent magnet motors do. Overall, the UES SRM propulsion system provides more miles per battery charge, reducing charging times and increasing energy efficiency up to 20 percent.
This project is part of UPS's commitment to helping cities and states around the world reduce carbon and other tailpipe emissions as urban areas and e-commerce grow.
UPS operates more than 770 electric or hybrid electric vehicles in urban settings around the world. They are part of a fleet of more than 8,500 alternative fuel and advanced technology vehicles worldwide.
UPS recently set a goal that by 2020 one in four vehicles purchased annually will use alternative fuels or advanced technology. The company has invested more than $750 million in alternative fuel and advanced technology vehicles and fueling stations globally since 2009.