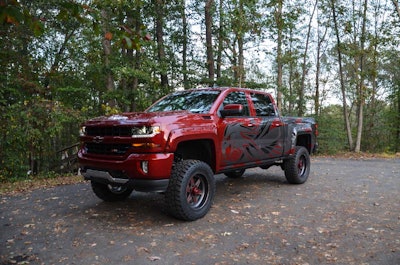 Rocky Ridge Trucks launched the True American Hero Truck Giveaway at SEMA 2017.
Rocky Ridge plans to award a one-of-a-kind lifted 2018 Chevrolet Silverado 1500 to a military veteran, first responder, volunteer, or other public service member who goes above-and-beyond the normal call of duty.
This Chevrolet Silverado is American-made and hand painted by custom pinstripe master, Tex McDorman.
This lifted Silverado includes custom-built shocks, forged wheels by American Force, power side steps by Amp Research, and a tonneau cover provided by TruckHero.
The truck achieves its aggressive stance from the 6-inch Rocky Ridge Signature Suspension Lift Kit which makes room for the 35-inch Mickey Thompson All-Terrain Tires. To add some old-fashioned American rumble to this beast, Rocky Ridge installed a stainless dual exhaust system with a Flowmaster 40 Series muffler.
To enter yourself or someone you know for the True American Hero Truck Giveaway, visit www.rockyridgegives.com. To qualify, submissions will need to be complete with the name of the recipient, field of service and the story behind why they deserve to be called a True American Hero. The submission deadline is February 28, 2018. Finalists will be invited to attend the 2018 NADA Convention in Las Vegas in March for a drawing to determine the winner.