Bollinger's all-electric B1 has been undergoing some challenging off-road tests in some pretty renowned places, including Engineer Pass in Colorado and Hell's Revenge in Moab, Utah.
"It did great," Bollinger's Chief Engineer Carl Hacken told Hard Working Trucks at SEMA (video of interview and footage of off-road trips are posted below).
A Jeep Rubicon went along for the ride, but the B1 proved to be more impressive, according to Hacken.
"This (B1) outperformed that and feels more stable than that vehicle," he said.
Whereas most of a conventional pickup's weight is concentrated under the hood, the B1 was designed with equal weight distribution in mind.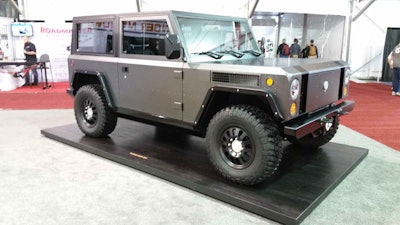 Brushless, permanent magnet dual motors are mounted in the front and rear and provide up to 360 horsepower and 472 lb.ft. of torque. Lithium-ion batteries are stored under the floor between the axles. Range is rated at either 120 or 200 miles.
"It has an extremely low center of gravity. If you're on a side-hill or climbing, it doesn't feel like any other vehicle," Hacken explained.
Around 12,000 pre-orders have been placed for the B1 following its summer debut. Bollinger calls the vehicle an SUT, or sport utility truck. It can be configured into either an SUV or half-cab pickup.
An aluminum frame and riveted aluminum panels not only keep the weight down, but also help guard against corrosion. Payload and towing capacities are rated at 6,000 pounds each. The cargo area will hold up to 72 sheets of ½-inch plywood.
Bollinger is getting closer to securing a manufacturing contract.
"We're still working on that. We've getting very close to signing some deals there and locking that in. So hopefully, by the end of the year we can have pricing and also a better date on production," Hacken said.
One YouTube viewer asked if Bollinger would be accepting Bitcoin for its vehicle, which is expected to be available sometime in 2019.
"I don't think so, but ya never know what's going to happen in the future," Bollinger responded.
Bollinger also said that it will be releasing performance numbers soon from its dyno tests. The muted, black and white Moab videos shown below were produced by Bollinger and posted on their YouTube site.