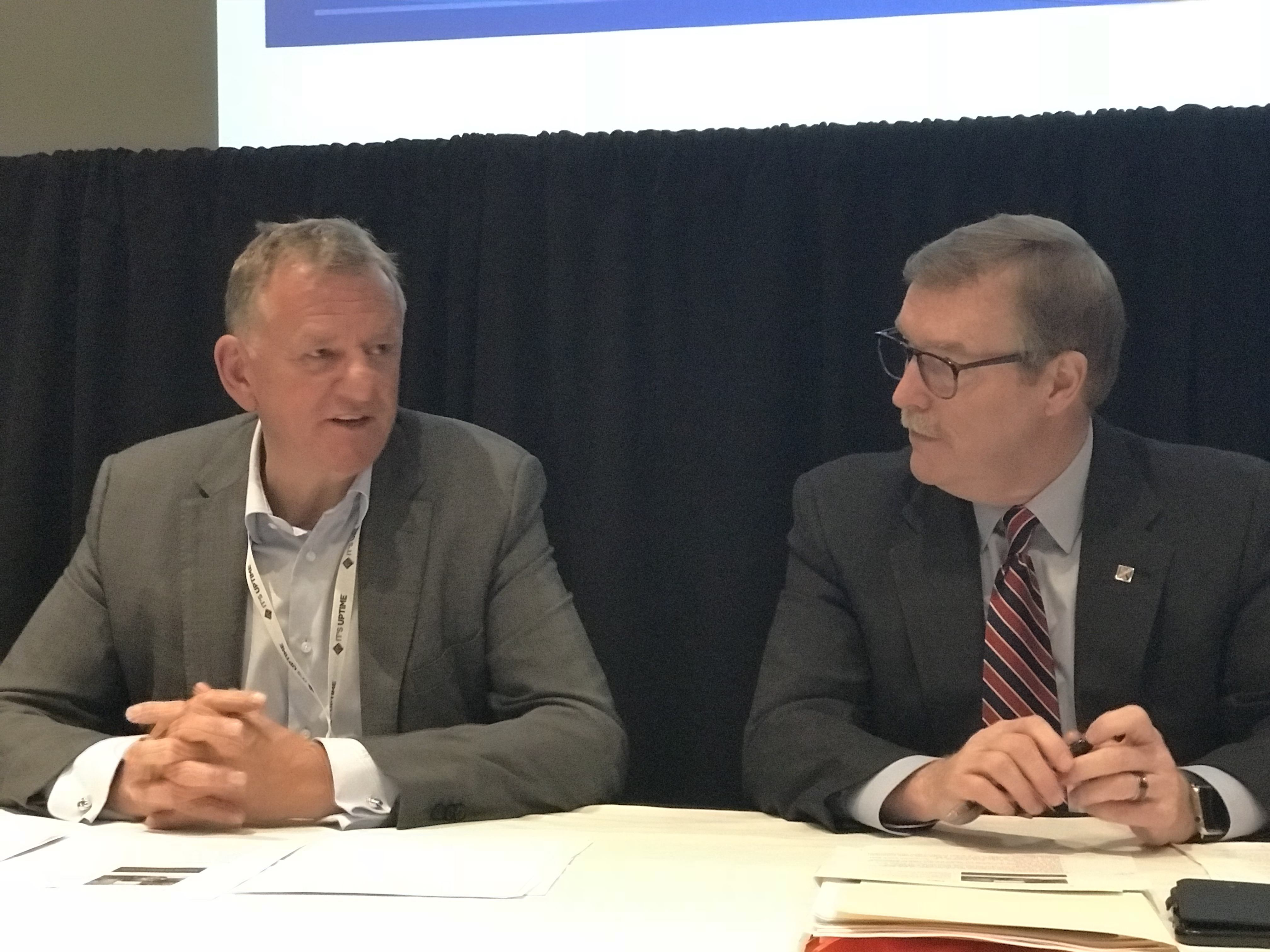 One year after the top brass from Navistar and Volkswagen Truck & Bus announced the companies' global strategic alliance by driving an International ProStar onto the stage at a Volkswagen press conference in Germany, the two truck makers announced new joint initiatives – including a proprietary integrated powertrain for North America, connected vehicle technologies and an electric truck – that will deepen their product integration and strengthen their emerging alliance.
"We believe a proprietary powertrain is important for Navistar, our dealers and our customers," said Troy Clarke, Navistar chairman, president and CEO, during a customer and media event at the North American Commercial Vehicle Show in Atlanta. "Yet, we also understand the challenges of developing a proprietary powertrain on our own. Navistar and Volkswagen have agreed to collaborate on fully integrated, next-generation diesel big-bore powertrains for North America." The powertrains will launch in International heavy-duty products as early as 2021.
Navistar also announced it will converge its connected vehicle technologies, including OnCommand Connection, with Volkswagen's global connected vehicle platform, beginning with a common in-cab hardware device. Navistar currently has 350,000 connected vehicles in North America, and Volkswagen has 300,000 in international markets.
"This will serve as a major step toward creating a global connected platform making it the largest global ecosystem for commercial vehicles," said Clarke. "It will unlock future opportunities and applications across all of our brands and clears the path for a common-cloud applications platform."
In 2010, Navistar unveiled its eStar electric Class 3 concept truck after acquiring Modec, a U.K.-based electric vehicle manufacturer, before shelving the initiative a few years later. "The eStar was probably a bit ahead of its time," Clarke admitted. "But we never gave up believing there is an opportunity for electric vehicles in the North American commercial vehicle market," announcing Navistar will reignite those efforts and leverage its alliance with Volkswagen to move back into electrical propulsion and introduce an electric medium-duty truck by late 2019 or early 2020. Volkswagen introduced a MAN electric tractor at the 2016 IAA Show in Hannover, Germany.
"We believe Class 6 and 7 vehicles is the ideal place for electric powertrain solutions as they typically run short distances and can return to a depot to recharge at the end of the day," said Clarke.
A deepening relationship
Navistar's three alliance-related announcements at the NACV Show indicate the company's eagerness to leverage Volkswagen's technology since the German truck company's investment in Navistar stock was approved in March.
Both Clarke and Andreas Renschler, Volkswagen Truck & Bus CEO, admit they are surprised at the rapid pace of collaboration and partnership at the one-year anniversary mark.
"I would have thought we would still be wrestling with a handful of issues around technical specs on engines or could we put together purchasing processes," said Clarke when asked where he would have thought the alliance would be after one year. "But that stuff was through in weeks. We feel good about [the alliance's progression]."
When the alliance was first announced last year, Clarke said it would allow Navistar to introduce a new 15-liter heavy-duty engine by 2021. "[Volkswagen] allowed us to be a part of the next generation of engine development," he said. "This is an engine being developed from scratch that will serve all the alliance partners."
Clarke said the alliance helps Navistar in future product planning. "It would be tough for me to spend another $500 million to develop another engine platform," he said, adding the company can benefit from Volkswagen's expertise without additional engineering expenses while Volkswagen technology gets used in more engines across more markets.
As Navistar and Volkswagen product development initiatives become more entwined, both executives faced media questions about Volkswagen's end goal for its position in the North American market and future investments in Navistar.
"It's important to have a strategic partner to enter the North American market. We wanted to have the right partner and Navistar has the best dealer network and has done a great job of bringing the company back," said Renschler, adding, "Strategically, on our way to being global champions, all options are open."
"Truthfully, it's not in the top 10 things that I worry about," said Clarke, his only comment on speculation of an eventual Volkswagen majority ownership in Navistar. "Our shareholders are excited to have a partnership with a company as credible as Volkswagen." He pointed to the benefit of having knowledgeable trucking representatives Renschler and Matthias Gründler, Volkswagen Truck & Bus CFO on the Navistar board. "By and large, a board doesn't come from the trucking industry and in many cases they have to rely solely on me as they don't have access to other industry experts," he said. "Now we have added these two very experienced industry experts to the board."
Note: This article originally appeared in Commercial Carrier Journal, a sister publication of Hard Working Trucks. It was written by CCJ Editor Jeff Crissey.