He was a good man who had been working hard to support his family.
George Guerrero had recently left behind the security of a New Jersey trucking company to become an independent owner-operator when he was gunned down by a fellow trucker Saturday on Interstate 10 in Jacksonville, Fla.
Guerrero, the breadwinner for his family, had been doing well driving goods in Florida and Georgia when he was needlessly gunned down over what may have been a traffic dispute.
Authorities are still looking for his suspected killer described by witnesses as a black truck driver with a beard driving an orange 2000 to 2005 Freightliner Century flattop sleeper cab with a 53-foot dirty white trailer.
"He bought his own truck and now they want to go and kill him after they see him shining? Shot three times for what?" Guerrero's son, Christopher Guerrero, 21, told abc7ny.com today.
Guerrero looked after his family and envisioned a better future for them.
"He always told us that he wanted us to make it," Christopher Guerrero said. "He was helping my aunt."
Guerrero had been hauling for Auscor Transportation in Middlesex, N.J. before striking out on his own a few months ago. He had adopted a shelter dog to accompany him.
Aria is shown in Guerrero's Facebook posts. She was also found at his side when officers found him dead behind the wheel.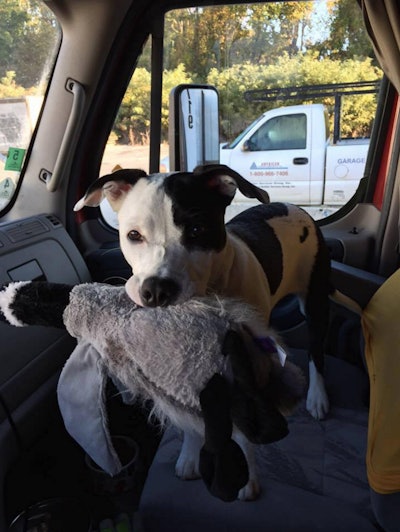 Aria was taken to a local shelter following the murder. Guerrero's cousin in Florida picked the dog up today.
"I'm worried about her and her well-being and how she is going to do without my cousin," Blanca Clendenin said of her cousin's dog during an interview with actionnewsjax.com.
Christopher Guerrero will soon take custody of Aria. In the meantime, the family asked again that Guerrero's killer turn himself in.
"Don't be afraid to face the consequences. Take responsibility for what you did to a father, a brother and uncle, a good man, a good man that was very well loved, a fellow trucker," Clendenin said.
Guerrero's family set up a GoFundMe account in his name hoping to raise money for his funeral.
Anyone with information about the crime is asked to contact the Jacksonville Sheriff's Office at 904-630-0500 or by email at [email protected]. Tipsters wishing to remain anonymous are asked to contact Crime Stoppers at 1-866-845-TIPS. Callers to Crime Stoppers may receive an award of up to $3,000.