The sister of the truck driver shot to death during an apparent act of road rage Saturday in Jacksonville, Fla. has called the suspect a coward and said that he needs to turn himself in.
Forty-four year old New Jersey resident George Guerrero was shot and killed by another trucker that had pulled up alongside him while both men were driving east bound in their trucks on Interstate 10 near Exit 351 around 1:50 p.m. Saturday.
"I think he's a coward. I think he is disgusting," Guerrero's sister, Malissa Kunz, told news4jax.com in a phone interview. "He has sickened and hurt this entire family. He took someone that was loved, cared about, that loved people, loved life and he needs to turn himself in and face the fact the he killed somebody."
The suspect, a bearded black male, remained at large Monday night. He was last seen driving a dull orange, 2000 to mid-2000s Freightliner Century or Columbia.
The Jacksonville Sheriff's Office said Guerrero may have inadvertently upset the suspect when highway construction work prompted him to change from the right to left lane in front of the suspect's truck. The suspect tailgated Guerrero until he drove back into the right lane at which point the suspect pulled up alongside Guerrero and shot him to death.
Guerrero's truck then veered off the highway into the woods. Witnesses who called 911 said they thought an accident had occurred between the two trucks. It wasn't until authorities arrived on scene that they learned that Guerrero had been killed by gunfire.
"Yes, there's no doubt about that. That's not a question at all," Jacksonville Sheriff's Office Sgt. Jay Farhat told Hard Working Trucks when asked if Guerrero had been shot to death.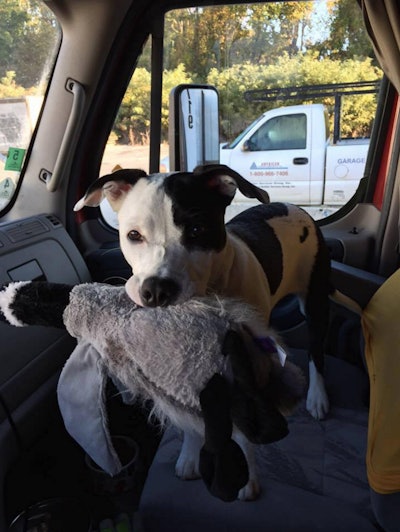 Guerrero's cab, the make and model of which has not yet been released, had been shot several times, Farhat said. Guerrero's dog was found in the cab beside him and was unharmed, according to wokv.com. The pet was taken to a local shelter until Guerrero's family could arrive.
The trailer Guerrero was pulling featured the name Sunco Carriers. However, Watkins trucking, owner of Sunco Carriers, told Hard Working Trucks that Guerrero did not work for them and that he was hauling one of their previously owned trailers.
Florida Highway Patrol Trooper Larry Favors, a commercial vehicle enforcement officer, told news4jax.com that finding a particular big rig can be like looking for a needle in a hay stack.
Anyone with information about the crime is asked to contact the Jacksonville Sheriff's Office at 904-630-0500 or by email at [email protected]. Tipsters wishing to remain anonymous are asked to contact Crime Stoppers at 1-866-845-TIPS. Callers to Crime Stoppers may receive an award of up to $3,000.