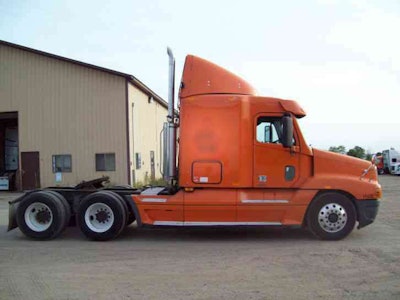 As authorities continue their search for a trucker suspected of shooting to death another truck driver Saturday on Interstate 10 in Florida, the Jacksonville Sheriff's Office has released a photo of a truck that they're hoping will help catch the killer.
"Attached is a stock photo of exactly what we believe to be the suspect vehicle," Sgt. Jay Farhat wrote in an email to Hard Working Trucks.
The suspect, a bearded black male, was last seen driving a "2000-2005 Freightliner Century Flattop with a sleeper and fairing," Farhat reports. The suspect was also towing a 53-foot long dirty, white trailer at the time. Authorities found 44-year-old New Jersey resident George Guerrero dead at the wheel after they say he was shot to death while driving east bound on Interstate 10 near exit 351. His dog was found unharmed at his side.
Witnesses who called 911 after seeing Guerrero's truck veer off the highway and into the woods thought it was an accident. Authorities who went to Guerrero's aid reported that he had been shot at least three times, including once in the head. The suspect has remained at large since the shooting took place around 1:50 p.m. Saturday.
Anyone with information about the crime is asked to contact the Jacksonville Sheriff's Office at 904-630-0500 or by email at JSOCrimeTips@jaxsheriff.org. Tipsters wishing to remain anonymous are asked to contact Crime Stoppers at 1-866-845-TIPS. Callers to Crime Stoppers may receive an award of up to $3,000.