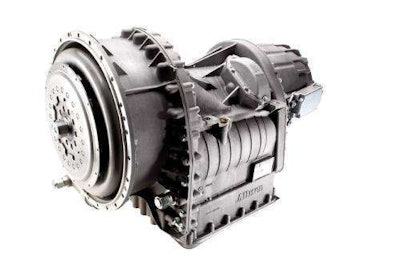 Allison Transmission's new TC10 transmission will be offered on Navistar's International, ProStar and TranStar models with MaxxForce 13 engines, the companies announced Thursday. This is the first offering of the fully automatic TC10, according to Allison.
Allison says test fleet users achieved, on average, 5 percent better fuel economy with the TC10 when compared to their current manual- and automated-manual transmissions. The new transmission is rated up to 600 horsepower and 1,700 pound-feet of torque and features 10 forward speeds and two reverse.
Navistar says it began accepting orders this week and expects initial deliveries to occur in the first quarter of 2014.
"The TC10's cutting-edge transmission technology, paired with Navistar's offerings, will allow fleets the ability to save fuel while enjoying the performance, durability and reduced maintenance that the industry has come to expect from Allison Automatics," says Jim Wanaselja, vice president of North America marketing, sales and service for Allison Transmission.
Nadine Haupt, director of alternative fuels and heavy duty on highway product marketing, Navistar says fleets spec'ing TranStar and ProStar models with the new Allison offering could expect to "further their fuel savings and operational goals."
Allison says the transmission is especially ideal for distribution applications where a tractor-trailer splits its work cycle between city and highway conditions.