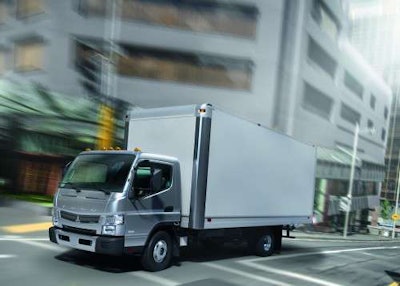 Mitsubishi Fuso Truck of America, Inc. (MFTA) announced Tuesday that it will offer a longer wheelbase on its class 3 Canter FE125 cabover truck.
The 169.3-in. wheelbase will accommodate bodies up to 20 ft. long with a GVWR of 12,500 lb. and a body/payload capacity in its normal configuration of 7,095 lb.
MFTA says the new long-wheelbase version is well suited for urban delivery of high-bulking items like furniture, baked goods, vending refill, clothing and the like.
"The new Canter FE125 with 169.3-inch wheelbase will give our customers another level of versatility as they work to satisfy their truck transport needs," Todd Bloom, MFTA's President and CEO, says. "At the same time, it will offer the low cost-of-ownership available on all of our other models—based on superior fuel economy, higher payload capacity and longer standard warranty than our medium-duty competitors."