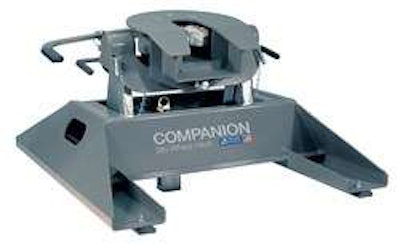 B&W Trailer Hitches introduced its new RVB3500 Companion fifth wheel aftermarket trailer hitch Monday.
The new Companion hitch employs B&W's Turnoverball mounting design that promotes quick, single-point hitch installation.
The quiet-riding hitch is designed to handle today's heavier trailers and pickups with varying truck bed configurations, the company says.
[youtube RchD-YXPz3w nolink]
"With its 20,000-pound towing capacity, enhanced height adjustment and flexible installation design, we anticipate that the new Companion will be even more commercially successful than its forerunner," Don Collins, president, DC's RV Centers, says.
B&W's earlier Companion model had an 18,000-pound towing capacity. The original Companion hitch has remained virtually unaltered since its inception in 1998, and the company says its new 20,000-pound rated Companion fifth wheel trailer hitch has all the features that RV owners and dealers favored in its predecessor and then some.
"Our new 20,000-pound rated Companion hitch is a response to recent trends in the structure and shape of truck beds, along with the increasing lengths and weights of trailers," Cleat Stockebrand, product design engineer for B&W Trailer Hitches, says. "The new Companion hitch base takes advantage of the structural features of late model truck beds, optimizing the capacity of the hitch and giving customers the needed adjustments to accommodate their towing needs."
The new Companion hitch features two adjustable pivot arms that can be oriented horizontally, relative to the truck's axle, and vertically to allow trailers to clear the taller truck bed walls now on many late-model pickups. The new hitch also features adjustable plastic feet that allow the hitch to adapt and mount snugly to an ever-increasing variety of truck bed corrugation patterns. Once installed, company says the substructure leaves the truck bed totally unobstructed.