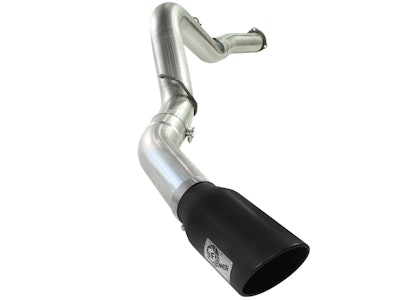 aFe Power announced Monday the release of a 5 inch DPF-Back Exhaust System for the 2007.5 to 2010 GM Diesel Trucks V8-6.6L.
This system is constructed from 5 inch mandrel-bent, 409 stainless steel tubing and uses high quality band clamps and OE-style bayonet hangers. This unit uses all factory mounting locations to provide a quick, hassle-free installation. Also included in this exhaust system is a massive 7″ wrinkle-black powder-coated 304 stainless steel tip with a laser-cut stainless steel aFe power badge. All systems use factory mounting locations providing stability and a hassle-free installation.
The company says high quality OE-style flange and band clamps are used for a complete 360-degree sealing surface. OE- style bayonet hangers are used to maintain a stable pipe location during high vibration and high heat conditions. The bayonet tip holds the hanger bushing in place for an OE-style fit that does not change with time.
This Mach FORCE XP exhaust system is constructed of 5″ mandrel bent stainless steel tubing for maximum flow. Smooth transition bends allow for low turbulence, increasing horsepower, torque and lowering EGT's. Finishing off the exhaust is a powder-coated black, 304 stainless steel exhaust tip. This tip features a drain port on the bottom to keep rust and corrosion away.