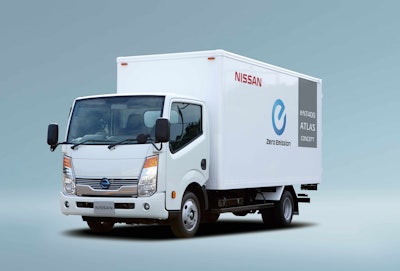 Nissan announced last week the company would launch an electric cargo van in 2014, and hinted that a companion light-truck model might not be too far behind.
Currently in the development stages is Nissan's e-NT400 fully-electric electric light-truck.
Based on the European NT400Cabstar, and known as NT400 Atlas in Japan, Nissan says the truck uses a high-output, high-capacity lithium-ion battery powering the 80kW electric motor, delivering a cruising range of 87 miles.
The e-NT400, still in its development phase but Nissan says plans for production under study. The truck uses Nissan LEAF running gear to create a zero-emission 100 percent electric vehicle.
Like e-NV200 cargo van, Nissan says the e-NT400 would be able to enter city areas denied to conventional vehicles powered by diesel or petrol engines, while its near-silent running means it could operate around the clock as it creates no noise or emission nuisance.
According to Nissan, a high-output, high-capacity lithium-ion battery powers the 80kW electric motor for smooth, vibration-free acceleration.
With a cruising range of 87 miles in NEDC mode, and features the availability of fully integrated Quick Charging potential – allowing the battery to be charged to 80 percent capacity in an hour.