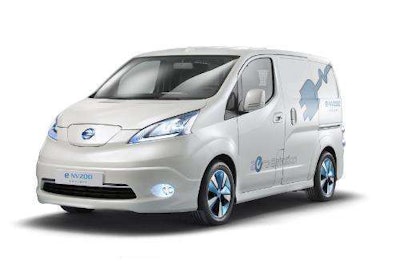 The technologies found in Nissan's popular fully-electric LEAF may soon find their ways into the company's commercial vehicles.
The company said Wednesday it is on track to introduce a all-electric delivery van next year – the e-NV200.
Nissan says the van – which made it world debut at the 2012 North American Auto Show in Detroit – has been road-tested for nearly two years with several commercial fleet partners. The e-NV200 incorporates the LEAF's electric powertrain, and the vehicle itself is based on Nissan's familiar multipurpose NV200 van.
Compared to the conventional van, Nissan says drivers of the e-NV200 will experience smoother acceleration from its electric powertrain.
"With its 'no gas, no tailpipe, no emissions' powertrain, the Nissan e-NV200 Concept combines a quiet, comfortable driving experience with a large, highly versatile, functional interior space within a compact overall body length," Hideto Murakami, corporate vice president, Nissan Motor Co., Ltd, says. "A potential game changing vehicle in its segment, the battery capacity will support a driving range similar to the Nissan LEAF, while payload and cargo space will offer the same level as the current NV200."