Boulder Electric Vehicle says it has successfully demonstrated their Vehicle-to-Grid (V2G) all electric trucks in three separate locations including Michigan, Colorado and California.
The first full-powered success came in June in Royal Oak, Mich. With 60 kilowatts of power going in and coming out of the vehicles, Boulder EV became the first EV truck manufacturer to successfully demonstrate V2G bi-directional charging.
"This first success happened in the labs of our EVSE partner Coritech Services," Boulder EV CEO Carter Brown says. "When we finally saw the power going in and coming out at the maximum allowable amounts as per the J1772 DC Combo connector spec, we were all as giddy as school kids."
The following month, in Ft. Carson, Colo., the US Army Corp of Engineers and the SPIDERS project signed off on verifying full charge and discharge of the vehicle at 60 kilowatts of power.
"It is amazing that one of our chargers can fully charge a Boulder Electric Vehicle delivery truck in just over an hour," Coritech Services CEO Russ Ristau says.
The third demonstration took place at Boulder Electric Vehicle's Los Angeles plant in August. The California Energy Commission awarded Boulder Electric Vehicle a $3 million grant from its Alternative and Renewable Fuel and Vehicle Technology Program to support the opening of BEV's second plant, located in Los Angeles. The Energy Commission's grant manager toured the facility for a final inspection prior to production, which is set for January 2014.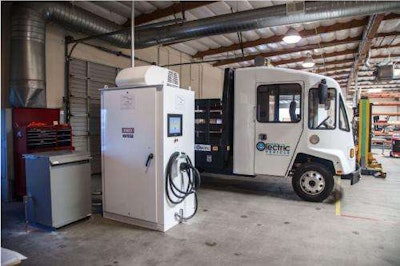 Boulder Electric Vehicle's first V2G demonstrations outside the Coritech lab and the Department of Defense are happening in Los Angeles. Boulder EV purchased a bi-directional DC charger from Coritech Services that will be solely used in their Los Angeles plant.
As of today Boulder Electric Vehicle is the only electric truck manufacturer in the world to demonstrate working vehicle-to-grid charging at 60 kilowatts of power outside of the SPIDERS project in Fort Carson, Colo.
Boulder EV and Coritech Services will be providing demonstration units comprised of a charger and a truck to private utility companies beginning this fall.
Boulder EV will also be showcasing a V2G capable truck, alongside a Coritech DC quick charger, at the Plug-In 2013 Conference & Exposition in San Diego.