In early 2015, Andy Hedrick met with an Israeli scientist who invented a fuel nanotechnology the country's military uses to extend the flight range and engine life of drones.
Hedrick negotiated a deal with the scientist to distribute the product in North America. He co-founded TK7 Products with business partner Doug Switzer from the oil and gas industry.
About 20 to 25 percent of the fuel injected into gasoline or diesel engines is not burned, says Hedrick. Unlike other types of fuel additives, the product is a nanotechnology that changes the molecular structure of fuel to cause more nitrogen and oxygen to be released during the combustion process to consume the unburned fuel and increase horsepower and efficiency.
At the time of the meeting, Hedrick worked in IT contract negotiations.  When the opportunity presented itself to help his clients significantly reduce fuel consumption and repair costs, he decided to pursue it.
His career in the transportation industry began more than 15 years ago at Appian Logistics, which developed fleet routing software. TMW Systems acquired the company in May 2011 and then Trimble acquired TMW in May 2012.
Validating results
For the last 2.5 years Hedrick has worked full time for TK7 Products. He recently contacted CCJ to discuss the benefits of the fuel nanotechnology for commercial and private fleets.
Hedrick cited results from independent lab and dynamometer tests that show TK7's fuel blend increases horsepower by 15 percent per stroke and reduces emissions by more than 50%. "You feel the difference in the pedal," he says.
The TK7 fuel nanotechnology uses 14 different chemicals that include detergents for cleaning injectors and valves as well as a synthetic lubricant that releases during combustion to reduce friction on the cylinder walls to extend engine life, he says.
The formula also lowers the pour point (gelling) of diesel fuel from -7 Fahrenheit to -19 degrees Fahrenheit, he says.
As an example of the maintenance benefits of the nanotechnology, Hedrick points to a study from the Southwest Research Institute in San Antonio. The lab tested two 1,000-horsepower Caterpillar engines at high RPM: one ran base Type 2 diesel fuel and the other ran Type 2 diesel with TK7.
The engine that ran base diesel failed at 700,000 simulated miles but the engine running the TK7 fuel blend was still going at one million miles, and a teardown showed no signs of wear on the cylinder walls. The test also showed the engine running TK7 fuel had a 60% reduction of hydrocarbons and a 40% reduction of carbon monoxide.
Automated dosing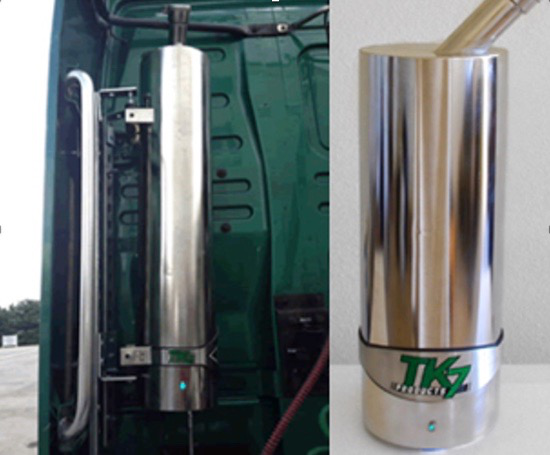 The TK7 fuel blend for diesel uses a ratio of 1 gallon of nanotechnology per 2,000 gallons of fuel. Rather than add the mixture to fuel tanks, TK7 Products has an automated dosing system that fleets install on trucks.
With the dosing system, the cost to treat a gallon of diesel is $0.149, he says.
Based on an average of 15% improvement in horsepower and fuel economy, Hedrick says fleets can expect a net fuel savings of $0.30 per gallon.
Based on the number of miles a 500-truck fleet would operate in a year, Hedrick calculates a net fuel savings of $2.4 million. This includes the cost of the fuel nanotechnology and the automated dosing system which runs $3,000 per truck with available monthly financing.
Going direct to fleets
Having a dosing system was not Hedrick's original plan. He first contacted major oil and gas companies in an attempt to make the blended fuel available at the pump. He also approached truck stop chains. All of them declined and engine manufacturers likewise have not been interested.
Fuel companies want to sell more gallons, he says. "They don't believe they can sell a fuel that reduces consumption by 15 percent or more without disrupting their own financials."
Hedrick has decided to sell the product directly to fleets. One of the early adopters is Gore Nitrogen, which operates a fleet of 120 trucks based in Seiling, Okla. The company specializes in nitrogen pumping, transportation and fracturing services for the oil and gas industry.
The fleet has been averaging about 15% savings on fuel and "I am very optimistic about the long term benefits" for engine life, said Gary Gore, chief executive, in a recorded video on TK7's website. "I think we're going to get a lot longer engine life out of it, but the fuel savings alone is enough for me to recommend it."
Hedrick says another fleet in North Carolina, a lumber hauler that regularly grosses 80,000 pounds, is averaging 18.77% fuel savings.
In addition to fuel savings and extended engine life, Hedrick says the product decreases the number of regeneration cycles and emission errors that can sideline trucks. Diesel engines burn cleaner with the product. Fewer particulates enter the DPF system which improves uptime and reduces use of DEF fluid.
TK7 Products sells the formulation for 29 varieties of fuel (diesel, gas, CNG, biodiesel, etc.). The biggest hurdle is fleets' prior experience with additives, he says, noting there are over 100 products in the market that use the same chemicals from four different manufacturers.
"We fight against lot of bad past experiences," he says. "Others might get two or three percent fuel savings. Ours is a totally different result."
Editor's note: This story was written by Aaron Huff, senior editor of HWT's partner publication Commercial Carrier Journal. As a follow-up to this article, Huff will soon be testing a sample of TK7 in his gasoline-powered vehicle and reporting on the results.