Roadside repairs from tire failures are costly and can cost fleets precious time.
To help keep trucks up and moving and maximize tire life Goodyear launched Complete Tire Management for commercial fleets this week at its 2020 North America Customer Conference in Aurora, Colo.
The suite of products and services enable companies to focus on their fleet management and business operations while Goodyear monitors their tires and provides actionable and insightful information to activate tire service where needed. The suite lineup includes Goodyear TPMS Plus, Tire Optix, CheckPoint and Tire Ready.
"There are multiple ways you can see savings from monitoring and managing tires effectively," said Johnny McIntosh, Goodyear's director of integrated solutions and tire management. "In the situation with TPMS Plus, there are a couple things. Because you're going to know that you have situations developing, you're going to be able to deal with it on your front foot instead of having to respond to a situation. You get to do it on your own terms."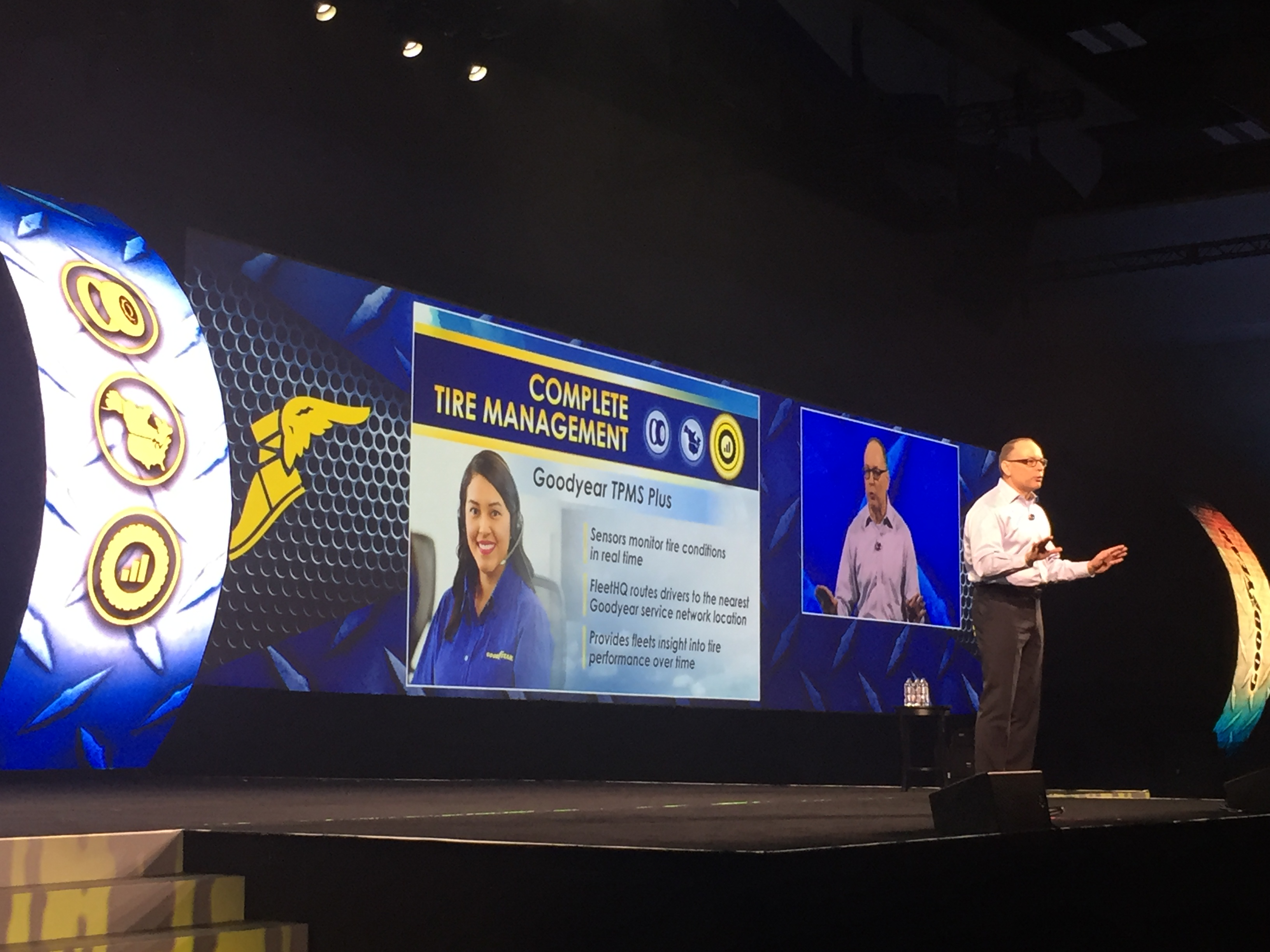 TPMS Plus is an on-vehicle, active monitoring system that evaluates tire conditions in real-time using Goodyear's unique, fleet-specific algorithms. TPMS Plus helps fleets identify critical issues, such as tire air leaks and high temperatures, while also providing predictive tire maintenance analytics to help reduce tire related roadside breakdowns.
"With TPMS Plus, sensors actively monitor tire conditions in real-time and identify and then address issues like air leaks, low pressure and a normal temperature," said Dave Beasley, Goodyear vice president of North America Commercial. "Once a potential issue is detected, Goodyear Fleet HQ routes the driver to the nearest Goodyear service network location or dispatches roadside assistance to perform preventative maintenance, helping the driver to avoid a costly breakdown. Best of All, TPMS Plus collects and stores this information in Goodyear's unique analytics platform. So fleets can then monitor and manage tire performance over time."
TPMS Plus' ability to more closely analyze tire conditions leads to predictive intelligence which can improve truck uptime.
"We've built some predictive capabilities around pressure and we're building some around thermal issues as well," McIntosh said. "So we can do things like note that you have a slow leak. It's nothing that you've got to deal with right now, but you need to fix it in the next three days or you're going to have a bad day.
"We've been refining this for half a decade with our R&D group here in North America and in Europe," McIntosh continued. "And we're just now launching our TPMS product today and it's more than just TPMS. It's not just putting something into the cab. All this data is going up to that cloud platform allowing us to make some smart choices for fleets."
TPMS Plus has already been getting results for fleets that agreed to participate in pilot programs. After a successful TPMS Plus pilot with Norfolk Southern's intermodal operations, Goodyear began to deploy the solution at the Norfolk Southern Fairburn, GA, facility earlier this year. Installations will be expanding to additional facilities in Illinois, Indiana and Florida over the next several months.
"TPMS Plus has already provided insight into our tire program that we otherwise did not have, resulting in immediate improvements to our maintenance processes," said Andrew Knouse, group manager, Road Equipment Maintenance and Planning, for Norfolk Southern. "In a sample of 20 chassis during the initial weeks of installs, we collected over 10 occurrences that prevented further failures. For example, TPMS Plus helped Norfolk Southern provide a new level of customer service by providing an alert that a tire was losing air and required attention. We, in turn, notified the driver of the problem, and the driver was able to pull over and have the tire addressed, preventing further damage to the tire and delay in his route."
Introduced by Goodyear in 2018, Tire Optix is a hand-held tool that allows technicians to quickly and accurately detect critical tire data, such as tire pressure, tread depth and tire wear conditions which can be wirelessly transmitted to a smartphone app. Techs can photograph tire anomalies and upload those images. Detailed inspection results are paired with real-time alerts.
"In 2019 alone this tool inspected more than two million tires helping fleets to optimize their tire performance," Beasley said. "Some exciting new features have been added to Tire Optix and we believe there is a potential for it to be used beyond commercial fleets."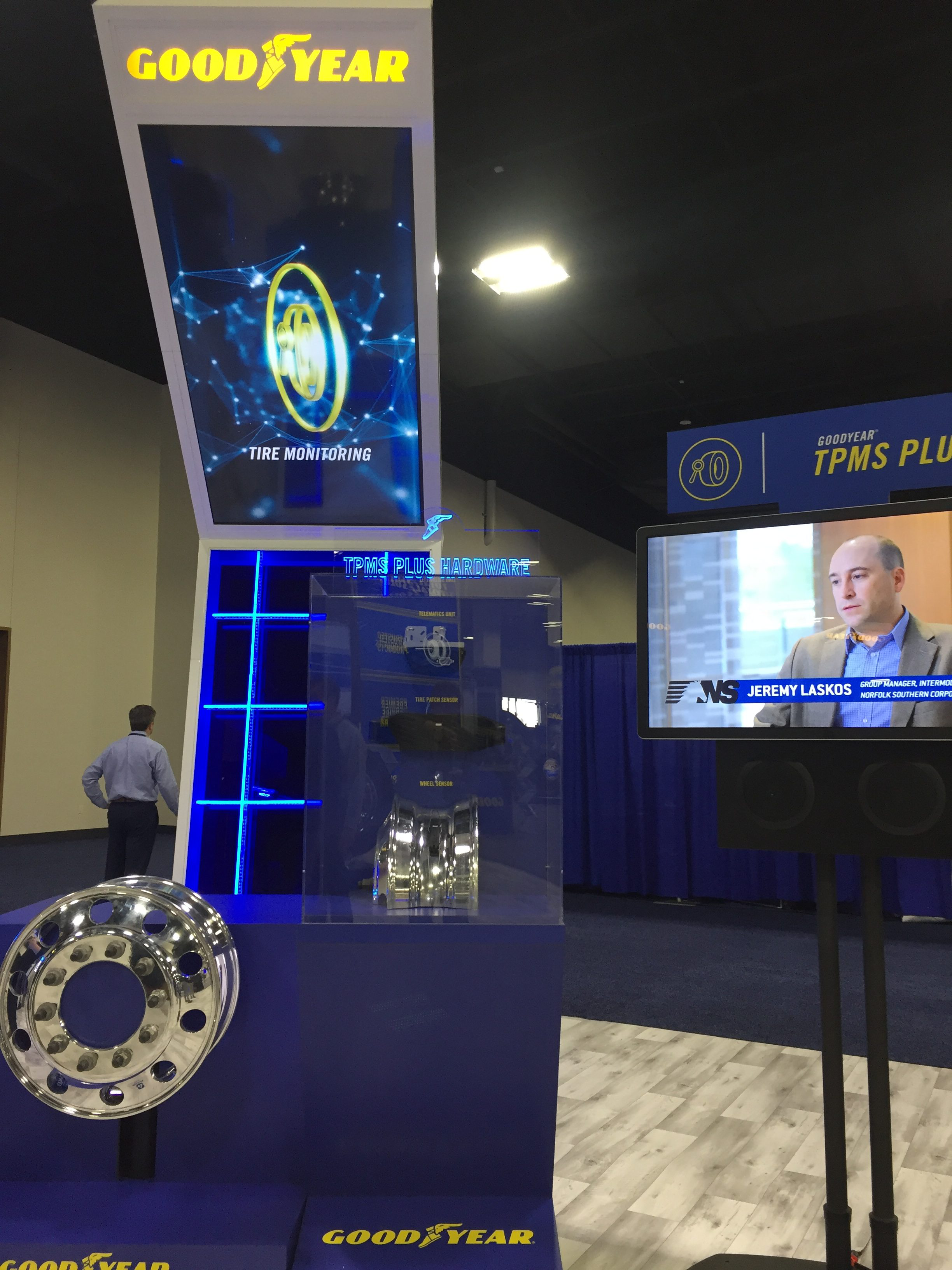 Goodyear Checkpoint is a drive-over reader device that provides automated inspections of tire pressure and tread depth. Positioned at a fleet yard entrance, this in-ground device scans passing trucks and triggers alerts to fleet maintenance if there are any immediate tire concerns that require attention.
"As a vehicle passes over it we have a series of optical sensors and lasers that capture tread depth, pressure and load," McIntosh said. "This makes sense for high volume fleet yards. Think about a distribution center where you've got hundreds of vehicles going in and out. And then we have active monitoring. So when you're monitoring tires, you're doing point and time inspections in an automated fashion or in a digital fashion typically."
Rounding out Goodyear's suite of Complete Tire Management is TireReady, a tire subscription program custom-designed to meet the specific needs of an individual fleet. Goodyear and its dealer network will manage and optimize the entire lifecycle of a tire – from new tire choices to retreads, monitoring, service, analytics and more. This all-encompassing solution allows fleets to focus on their core business while Goodyear takes care of the tires.
"Goodyear total tire management combines best-in-class tire monitoring, insights and service capabilities to offer a complete solution for fleets," Beasley said.