ROVI recently announced its GPS Dashcam PRIME which is geared at offering high-tech features at an affordable price.
Designed for both vehicle security and go-anywhere video recording, the ROVI GPS Dashcam PRIME is designed for easy installation and provides instant access to recorded HD video shot during the day or night.
The ROVI GPS Dashcam PRIME offers a variety of features including high-definition and low-light recording, Wi-Fi connected streaming, GPS location and speed recording, collision detection and an innovative magnetic mount.
The GPS Dashcam PRIME features true high definition recording up to 1080p HD resolution at 30 fps. Video is recorded through an extra-wide-angle 150-degree lens, allowing for clear capture of a panoramic range of vision for maximum documentation and safety.
For low-light recording, the GPS Dashcam Prime features Wide Dynamic Range recording technology to balance the light and dark areas of the footage for high-quality nighttime recording.  Video playback is presented through a wide 1.5-inch optimized display designed for clear visibility in all light conditions and a tempered glass cover.
With the free ROVI Live app, the GPS Dashcam PRIME can easily transfer recorded content to iOS and Android-enabled smartphones, tablets, laptops and PCs via a Wi-Fi connection. In addition, the ROVI Live app gives the camera ability to livestream video to Facebook Live.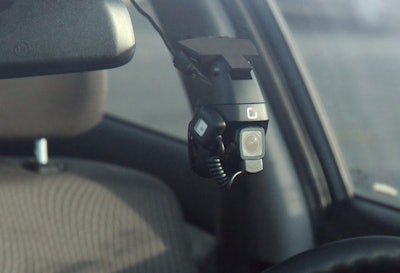 With the included GPS antenna, the ROVI GPS Dashcam PRIME automatically overlays current vehicle speed on recorded video and records the exact position at all times, allowing for detailed and accurate documentation in the event of an accident. If an accident does occur, the GPS Dashcam PRIME's built-in G-sensor will detect the impact and automatically save the current recording, protecting it from future deletion. The innovative Parking Mode immediately activates camera recording once motion is detected, potentially capturing footage of an accident even while the vehicle is parked and unoccupied.
During normal operation, video is stored with ROVI's Loop Recording system which automatically deletes the oldest, non-marked recordings to ensure memory is always available. The GPS Dashcam PRIME requires the use of a Class 10 Micro SD memory card up to 32GB in capacity, which is not included with the camera.
The GPS Dashcam PRIME mounts to the windshield with a simple and secure magnetic mount system. No cables are needed to connect or disconnect the camera to its mount and the camera can be attached or detached instantly by aligning the connecting pin. The mount itself is also designed for easy installation, with a one-step adhesive pad attachment and one-time USB cable wiring for charging and data synchronization.
The ROVI GPS Dashcam PRIME CL-6001 is available now and retails for $179.99 and is covered by a 12-month warranty. For a limited time only, the camera will be available on the ROVI website for a reduced price of $149.99. For more information on ROVI's full line of premium dash cameras and to purchase a ROVI dash camera today, visit www.rovicams.com.