Golight, Inc., a world leader in pan-and-tilt remote-controlled lighting technology, announced the introduction of its new and improved Stryker ST Series of remote-control LED and halogen searchlights.
The Stryker ST Series is the culmination of continuous field studies and customer-driven research that identified desired functional enhancements across the company's land and marine markets.
"Our data suggested that being able to control two lamps independently or in tandem from a single remote-control unit and one lamp from multiple control units was a statistically critical feature, as was the elimination ofremote-control crosstalk that can cause headaches and confusion when multiple wireless remote-control lamps are used in close physical proximity," said Colt Hosick, director of product development for Golight. "The desire for less complex lamp and controller pairing and on-command return-to-home function was also highly ranked in our analysis."
The Stryker ST's newly designed remote-control unit is designed for simple operation. Large buttons are easy to access even with gloved hands, and fluorescent iconography makes the controller buttons legible in dark or low-light conditions. Now powered by two regular AAA batteries, the controller is more convenient to maintain.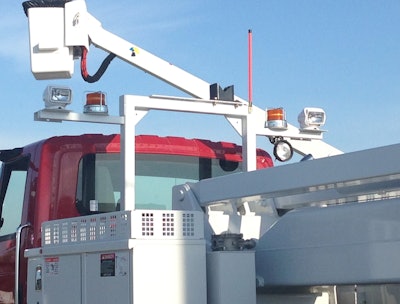 The new Stryker ST lets users pan and tilt simultaneously. It also comes with a unit selector function that enables a user to operate two Stryker STs individually or in synchronization, using a single remote-control transmitter. These new functions are designed to promote versatility, convenience and simplicity while reducing the number of remote controls that a vehicle must carry.
Pairing the new remote-control transmitter with a Stryker ST is as simple as pressing and holding two buttons, and the use of dipswitches has been completely engineered out of the equation. Once a controller is paired with a lamp or lamps, that same controller can replicate its pairing, allowing multiple controllers to be uniformly paired and enabling several users to share control of an individual lamp or other paired lamps. The Stryker ST Series operates at 2.4 GHz, virtually eliminating the possibility of intra-lamp interference, even in instances where many Stryker ST lamps and controllers are being used in the same vicinity.
The one-button home-position function is also a new feature on the Stryker ST Series. Unlike some remote-control lamps that automatically return to their home position when turned off, the Stryker ST maintains its existing position when powered off, allowing users to stop and start activities without the need to reorient their light source each time. The feature also allows users to point the lamps to the rear when not in use, as a method of protecting their lenses from harm.
The Stryker ST comes standard with 12-volt electrical system compatibility and is available with 24-volt compatibility. The lamps come with either LED or halogen light sources. The LED model features tough polycarbonate plano-convex (P-Vex) lens technology. The halogen version comes with Golight's PentaBeam reflector design and a tempered glass lens. Both LED and halogen versions optimally focus their beam patterns at an 8-degree angle. The low-maintenance lamps come with a high-impact, UV ray-resistant and saltwater-resistant housing suitable for land and marine applications.
The LED Stryker ST lamp employs 10 high-flux LEDs, producing an industry-leading 410,000-candela beam projecting to a maximum distance of 4,200 feet. The halogen Stryker ST lamp produces a 200,000-candela beam projecting to a maximum distance of 2,933 feet.
The Stryker ST is available in a permanent-mount model with a stainless-steel mounting bracket and a portable model with amagnetic base. There is also a magnetic base adapter kit that allows users to install a Stryker STwith a magnetic base to a non-magnetic surface, such as aluminum. An optional remote-control holster is also available.
Both LED and halogen lamps come with a five-year unlimited warranty.