Toyo Tire U.S.A. Corp. has released a new all-season highway tire for pickup trucks and SUVs.
The Toyo Open Country H/T II highway, Toyo says, is a next-generation tire that builds on the Open Country H/T with added technology and design that deliver improved wet braking performance and handling, longer tread life, and more consistent traction performance throughout the life of the tire.
Contributing to the improvements is a new wear-resistant tread compound that extends tire life and improves durability. A combination of new patented tread design features, including adaptive circumferential grooves and expanding shoulder grooves, help maintain excellent wet performance throughout the wear life of the tire. All-season performance is further enhanced by four wide circumferential grooves and multi-wave sipes.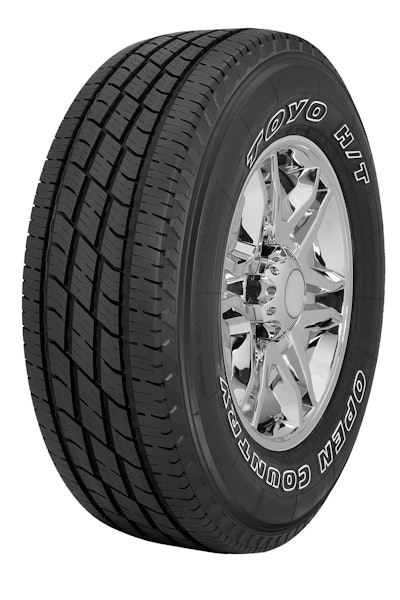 The Open Country H/T II also offers styling options with a dual sidewall design that allows owners to further customize their truck or SUV with either a classic or sporty look. The classic design is reminiscent of the Open Country H/T and will appeal to those who love the predecessor tire. The classic side is also available with raised outlined white letters in select sizes. The sporty side features high-contrast lettering and an attractive, stylized shoulder and sidewall to complement today's sporty and modern trucks and SUVs.
This premium all-season tire comes with a treadwear warranty of up to 70,000 miles and is backed by the Toyo Tires 500 Mile Trial Offer.
It is available in a broad range of sizes to fit 15-, 16-, 17-, 18-, 20-, 21- and 22-inch rim diameters. Widths range from 215 to 285mm with 85 down to 45-series profiles. It is available in a full range of P/Euro-Metric and LT sizes with load ratings of 1,874 lbs. to 3,858 lbs., and up to load range E for one-ton pickups.