ICON Vehicle Dynamics released their full lineup of 1.5- to 3.5-inch suspension systems for the redesigned 2019-up Chevy Silverado and GMC Sierra 1500 trucks.
Available in several pre-staged configurations for on- and off-road performance, each system provides up to a 35 percent increase in front wheel travel and allow for the fitment of larger and more aggressive tires.
With several changes being made to the 2019 GM 1500 platform including increased chassis rigidity, revised suspension geometry and a lighter overall weight, ICON's R&D department went to work to make sure the new GM ½ ton truck was properly analyzed and designed entirely new suspension components to complement GM's refinements. The development of new ICON upper control arms, front coilovers, and rear shocks was necessary to optimize fitment and performance on this new platform.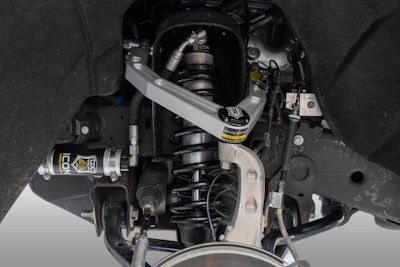 ICON Vehicle Dynamics 2.5 Series front coilovers and 2.0 Aluminum Series rear shocks have been valved specifically for GM's 2019-up ½-ton trucks to provide a balanced baseline performance of the vehicle while increasing wheel travel by 25 percent. As the stages increase front upper control arms are included to allow for even more wheel travel (35 percent increase) and strength, as well as improve suspension geometry for more predictable handling. Additional shock technology like remote reservoirs and the ICON CDC Valve are provided to drastically increase overall damping ability and allow for end user ride adjustability.
KEY FEATURES
Adjustable coilovers provide 1.5-3.5" of front lift height
Fits 2WD & 4WD applications
Increased lift height allows for fitment of larger and more aggressive tires
Up to 35% increase in front wheel travel over stock
ICON shocks feature vehicle specific tune for superior performance and ride quality
Corrosion resistant anodized shock body with 5/8″ shaft (2.0 Aluminum Series shocks)
Corrosion resistant CAD plated shock body with 7/8″ shaft (2.5 Series shocks)
7.5" aluminum reservoirs provide generous oil and nitrogen volume for consistent damping as shock temperature increases
Easy-to-adjust CDC Valve (Compression Damping Control) allows for end-user compression changes to suit all types of terrain and vehicle cargo configurations
FK Rod End bearings provide extended longevity and minimal deflection
Shocks are fully rebuildable and revalvable
ICON upper control arms allow for additional wheel travel (when paired with extended travel coilovers) while improving suspension geometry for predictable handling
Patent pending Delta Joint combines the durability and weather resistance of a ball joint with the performance characteristics of a uniball
CNC machined 6061 billet aluminum upper control arms allow for on-vehicle camber and caster adjustment
Direct bolt-in design makes for a simple and straightforward installation
Lifetime guarantee against ICON fabricated component breakage or manufacturer defect
WHEEL & TIRE FITMENT INFO
2019-up Chevy Silverado 1500
2019-up GMC Sierra 1500
*Larger tires may fit but fender trimming and modifications will be required
TECH INFO
Lift heights based off of a 2019 Chevy Silverado LTZ 4WD with 5.3L engine
Fits 2WD & 4WD applications
With coilovers set to maximum recommended lift height ICON recommends use of 51001 1″ rear block kit for level stance front to rear.
OPTIONS
Part #51001 | 1" Rear Lift Block Kit