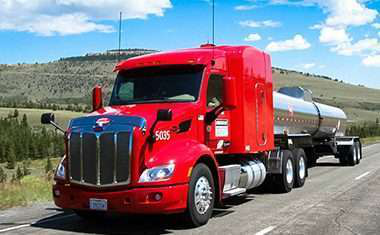 Groendyke Transport (No. 106 on the CCJ Top 250) is petitioning the Federal Motor Carrier Safety Administration to allow it to use pulsating brake lamps in addition to steady burning brake lights.
In its application, the Oklahoma-based hazmat tanker fleet says it assessed "what it could do to prevent other drivers from rear ending Groendyke trailers" and decided that increasing visibility would "be an efficient means to prevent rear ending accidents." The company says it then searched for ways to grab the attention of other drivers faster.
The request would allow the company to install an amber brake-activated pulsating light to the upper center portion of its trailers. Groendyke's application states that research shows that pulsating brake lights in addition to steady burning red brake lights improves visibility and reduces accidents.
The company also cites studies by the National Highway Traffic Safety Administration on rear-end crashes, which indicates, according to Groendyke, that drivers are alerted faster when a pulsating brake lamp draws their attention.
In a study of its own in which the company added pulsating brake lights to nearly half of its 1,440 trailers, Groendyke found that the frequency of rear-end collisions dropped by 33.7 percent on trailers with the lights compared to those without.
FMCSA is requesting public comment on the request, which can be made here through Aug. 29.