Innovative Products of America now puts tow-circuit testing into the palm of your hand.
IPA's #9107A Electric Brake Force Meter with Dynamic Load Simulation and Circuit testing syncs with a vehicle's trailer detection system allowing for fast brake controller diagnosis without the need for a trailer.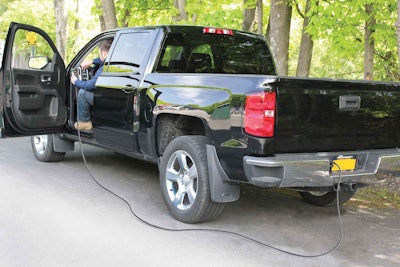 The tool, which works on integrated and aftermarket brake controllers, displays real-time, brake-force output gain and timing as well as truck-side tow circuit indication.
Designed for 7-spade equipped vehicles, the tool simulates a trailer load and troubleshoots all truck-side tow circuits, such as tail lights, turn signals, 12-volt current, reverse and ground condition, etc.
The 25-foot cable allows for one-man, in-cab testing and can be easily stowed inside the provided soft case.