Larson Electronics is now offering a no-drill magnetic steel mounting plate for 2015-up Ford F-150 aluminum body pickups.
The lightweight mounting plate allows magnetic base lighting fixtures up to 20 pounds.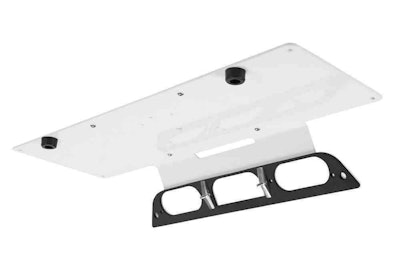 "The MMP-F150-2015-LED magnetic no-drill mounting plate gives operators the ability to mount magnetic-base lights to their vehicles without having to damage to body of the truck with drill holes," said Rob Bresnahan, CEO of Larson Electronics LLC. "Utility workers who need a temporary light source on their Fords will find this mounting plate convenient and easy to use, with a simple and fast installation."
Constructed of durable powder-coated aluminum and steel, Larson's latest mounting plate features a weatherproof seal that also protects the body against scratches.
Installation for the magnetic mounting plate is easy. Remove the third brake light on the back of the truck, position the mounting bracket and reinstall the light through the bracket. The mount is rated for highway speeds.