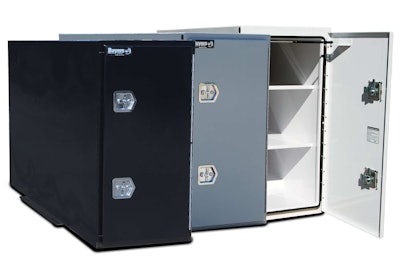 At the Work Truck Show in Indianapolis Wednesday, Buyers Products introduce several new products.
The new Straight Side Backpack Truck Boxes feature two full-length doors, one on each side, with dual latches, fixed interior shelves and built-in mounting rails.
Scott Moorman, director of engineering at Buyers Products, says the the design is well-suited for cab-over trucks, allowing ample clearance for frame-mounted battery boxes and tanks.
The boxes also boast room for upright tool storage.
The new boxes are available with a black or white powder-coated finish, or primed for painting. Boxes are always in stock and ready to ship.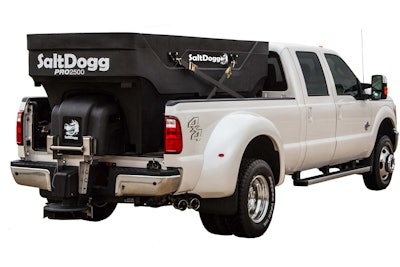 The SaltDogg PRO Series electric spreaders, also debuted Wednesday is engineered to reliably and accurately spread bulk salt or a salt/sand mix.
The PRO Series comes with either a full-length auger or 12-inch pintle chain. A high-flow chute and a 14-inch spinner give the spreaders the velocity to maintain consistent coverage at high speeds. The chute is designed to swing away for bulk unloading.
SaltDogg PRO2000 (2 cubic yard) models can fit in a full-size pickup truck, whereas SaltDogg PRO2500 (2.5 cubic yard) models are designed for use with a flatbed, dump truck or large pickup truck with dual rear wheels. The spreaders feature Buyers' patented double-wall poly hopper. Each PRO model includes a top screen, stainless steel inverted Vs, and a fitted tarp for material protection.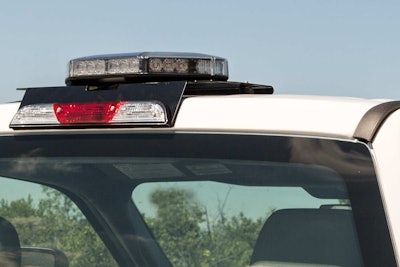 An new Fleet Series Drill-Free Light Bar Cab Mount eliminates the need to drill mounting holes into the cab roof by using boltholes provided by the OEM third brake light. The new light bar cab mount is ideal for aluminum cabs that do not work with magnetic mounts.
The one-piece construction offers a quick install and a low-profile design for improved aerodynamics.