Tuffy Security Products is now offering the Security Cubby Cover for 2005-2018 Toyota Tacoma Double Cab pickups.
The heavy-duty locking cover fits over the existing plastic OEM cubby located behind the rear seat to offer added protection against theft.
Made of heavy-duty 16-gauge and 1/8-inch thick welded steel with a continuous steel hinge, the Security Cubby Cover features a pick-resistant 10-tumbler double-bitted lock with Tuffy Security Products' Pry-Guard patented locking system to deter theft.
The Pry-Guard latch mechanism allows the cover to shut without being locked and is designed to offer exceptional strength compared to latches with 1/4-inch thick metal components and a welded steel striker.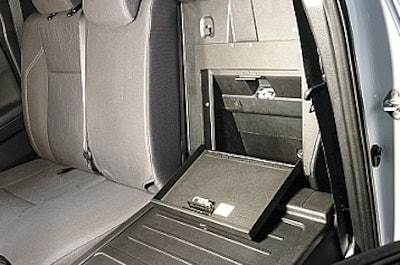 A textured powder coat guards against chipping or pealing and weather seals keep out dust and dirt.  The Security Cubby Cover also allows for the use of the OEM child seat retention point when installed.  An optional filler plate is included.
The Security Cubby Cover can be installed with standard hand tools in just a few minutes.  Mounting to existing factory holes on the Toyota Tacoma means no drilling is required.
Also available from Tuffy Security Products for the Toyota Tacoma are Security Console Inserts and a Bed Security Lockbox.  Optional foam inserts and carpeted liners can be added to these products to cushion and protect the contents.
"The Security Cubby Cover and all of our other security storage products and accessories are made with top quality American craftsmanship," said Tuffy Security Products Marketing Manager Chip Olsen. "With heavy-duty construction, our storage solutions will protect expensive gear and supplies for as long as you have your vehicle."