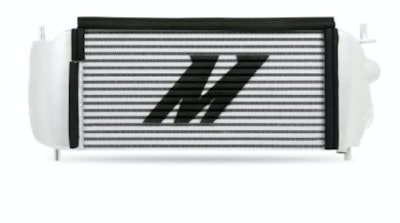 Mishimoto has launched its Performance Intercooler for the 2015-up Ford F-150 EcoBoost which it says will lower air intake temperature by an average of 10 degrees.
"Your engine will reach a better level of cooling from the help of both an increase in core volume by 77 percent over stock and external fin surface area by 163 percent," Mishimoto states in its press release. "We put our core through some grueling tests to see how our design can alleviate the effects of heat soak. With temperature drops averaging 10 degrees under the stock numbers, your F-150 will take in cooler air, providing better performance and increased tuning potential."
Mishimoto's intercooler features cast end tanks and bar-and-plate construction, while the core is designed to offer greater resistance to the outside elements.
Offered in either sleek silver or black, the all-aluminum, TIG-welded intercooler is built to efficiently handle high boost and comes with Mishimoto's lifetime warranty.