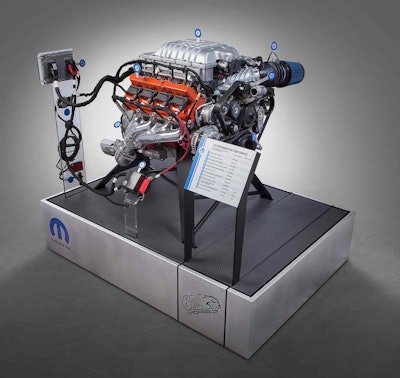 Mopar will debut its new 707-hp 6.2-liter supercharged Crate HEMI Engine Kit tomorrow at SEMA.
The Hellcrate, as its called, is the first-ever supercharged factory-backed crate engine kit. It delivers up to 650 lb.-ft. of torque.
The release of the Hellcrat will be followed by the unveiling of additional high-profile news during the brand's Mopar SEMA product presentation, scheduled for Tuesday, Oct. 31 at 7:26 p.m. ET/4:26 p.m. PT.  The product presentation can be viewed live at https://livestream.com/fcalive/moparsema2017.
"Never before has a supercharged, factory-direct 707-horsepower crate engine kit been offered, and we are proud to be the first to deliver a solution enthusiasts have demanded," said Pietro Gorlier, Head of Parts and Service (Mopar), FCA. "This ultimate powertrain option fits the needs of owners and fans who demand iconic performance."
The new Mopar Hellcrate HEMI Engine kit provides relatively simple "plug and play" with the 6.2-liter supercharged Crate HEMI Engine assembly — also available from Mopar.
The kit includes a powertrain control module (PCM), power distribution center, engine wiring harness, chassis harness, accelerator pedal, ground jumper, oxygen sensors, charge air temperature sensors and fuel pump control module. The PCM is unlocked and set to the factory 707-hp calibration. The Hellcrate is optimized for use with manual transmissions, such as the Tremec Magnum transmission kit.
An essential Front End Accessory Drive (FEAD) Kit, which includes an alternator, power steering pump, belts, pulleys and more, is among additional engine accessory hardware components available to assist in installation.
The kit, intended for pre-1976 street and off-road vehicles, ships in unique packaging featuring the Hellcrate logo and includes in-depth information sheets with helpful installation tips and requirements.
The Hellcrate (Part Number 68303089AA) has an MSRP of $19,530. The Hellcrate Engine Kit (Part Number 177072452) is available at an MSRP of $2,195. Both feature a Mopar three-year/unlimited mileage warranty when purchased together.